The International Press Institute (IPI), a global network of editors, media executives and leading journalists for press freedom, today condemned a number of attacks on local journalists and local journalist associations in Antalya, Nevşehir and Bursa, Turkey.
On August 19, Şaban Önen, the publisher of Karacabey Yörem newspaper, was attacked by two business owners – one of whom is reportedly a relative of Karacabey Mayor Ali Özkan of the ruling Justice and Development Party (AKP) – and two other unidentified persons in the municipality's truck garage. Karacabey is a small city of around 50,000 in Turkey's Bursa province. According to the local media, the reason behind the attack is reports published by Karacabey Yörem about the mayor.
Speaking to IPI, Önen said the attack might have been done as an act of "intimidation." Önen knew of the assaulters beforehand and had already filed complaints before.
"Not only in an economic sense it is hard to be a journalist, the intolerance to what we do is at the highest level. No one wants to be criticized. If you do your job without reporting sensitive issues, you are not in danger", Önen said.
He added: "This attack is against the public, too. Because we do our jobs without violating any personal rights to make sure our community gets the information out there. But this attack will not discourage me."
Önen said the justice system has a crucial role to play to ensure that such attacks do not happen again.
Another attack on local journalists took place in Nevşehir, a city of around 100,000 people in Central Anatolia. A vehicle belonging to the Nevşehir Journalists Association was set on fire on August 25 by a number of people. Two suspects identified by the security footage were detained by the police. The investigation continues. The vehicle, which was parked in front of the association's building, cannot be used anymore.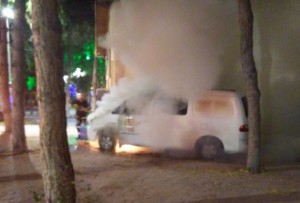 IPI reached Bayram Ekici, president of Nevşehir Journalist Association, about the attack. "If you have written about the good work done by the government, the label is ready: Pro-government journalist; if you criticized the government: opposition/hypocritical journalist; if you are neutral: then you are labeled as malleable [adjusting to all governments]", Ekici said.
He added "The way of adopting freedom of expression from all segments of the society in order for democracy to function properly is by removing the obstacles to getting the news from the authorities correctly and to announce it. The journalist must survive without professional worries."
On the same day, a group of people fired shots at the home of Yakup Kocabaş, the Gazipaşa correspondent for Dim Media, a local newspaper based in Antalya province. Gazipaşa is a small town on the Mediterranean coast, east of Antalya. According to local reports, the unknown individuals opened fire on his residence from a vehicle. No one was injured in the attack. Kocabaş said in an interview that the attack might be related to his journalistic work. He also mentioned that as the media outlet, they report on people who engage in illegal activities and emphasized that he will not back down despite all this pressure.
"In the news, we have made recently, we have fought against those who suck the blood of the district and engage in illegal activities. My issue is our district and the future of our people," he added in the interview.
The most recent number of physical attacks on local journalists point to a worrying pattern. Only a few months ago, on April 20, an armed attack was launched against the local newspaper Ses, in Kocaeli province. According to local reports, the attack was in response to reporting by Ses, the only critical newspaper in the region, on topics varying from coronavirus to an amnesty law freeing prisoners amid the virus's spread. According to IPI's COVID-19 press freedom tracker, Ses newspaper's two editors and news editor were briefly detained and released after reporting on local coronavirus cases in the town.
IPI Deputy Director Scott Griffen said: "What remains of independent local journalism in Turkey is already under tremendous political and financial pressure, and these recent attacks only add to a climate of intimidation. Local journalists are particularly vulnerable to retaliation from local powerful figures dissatisfied with the journalists' work. Law enforcement authorities must diligently investigate all such attacks on journalists and hold all those responsible to account, including the masterminds."
Last year in May, IPI also reported on several physical attacks against local journalists over their reporting and sent a joint open letter to President Erdoğan asking to ensure journalists' safety. Some of those attacks were linked to members of the Nationalist Movement Party (MHP), which is in a governing coalition at the national level with the AKP.