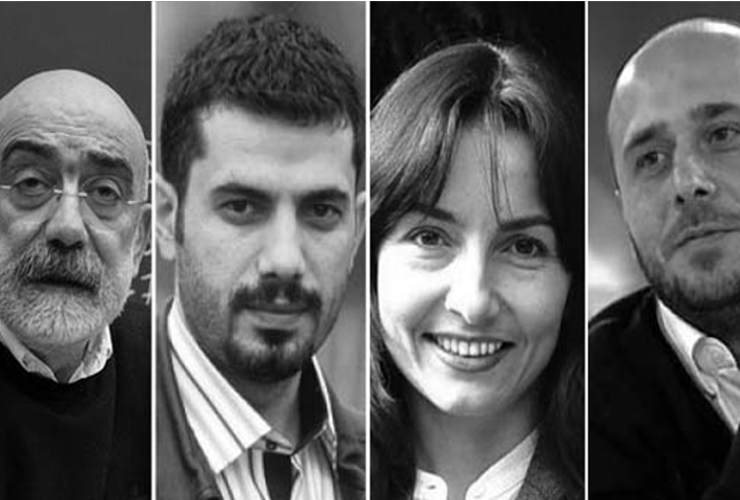 Ahmet Altan, Mehmet Baransu, +others
Defendants: Ahmet Altan, Mehmet Baransu, Yasemin Çongar, Yıldıray Oğur, Tuncay Opçin
Media Outlet and Position: Taraf Newspaper – Journalists
Status: Imprisoned (names in bold)
Facility: Silivri Prison, İstanbul
Accusations: Founding and leading an armed terrorist organization; Making propaganda for a terrorist organization; Revealing information that is to be kept secret for the security and political benefit of the state; Obtaining secret documents concerning national security.
Possible sentence: various, up to 75 years
Court: İstanbul 13. High Criminal Court
Case Background: 
Five journalists for the now-closed Taraf newspaper have been detained on several charges in relation to an alleged 2010 military coup plan named the "Balyoz Operation". The journalists are accused of "revealing state secrets" through their reporting at the time of those generals' trials who allegedly planned the Balyoz Operation. While the generals were acquitted of the charges, the journalists' trial continues.
Mehmet Baransu and Ahmet Altan are the only two defendants out of five that remain in detention. Another defendant, Tuncay Opçin, remains at large.
Baransu was arrested on March 2, 2015, on charges of "revealing information that is to be kept secret for the security and political benefit of the state". Baransu was also given a 10-month prison sentence in June 2015 on separate charges of insulting President Erdoğan in a series of tweets.
Novelist and journalist Ahmet Altan is also a defendant in another case. He was arrested on September 10, 2016, and is accused of using his position in the media to further the aims of the religious movement led by Pennsylvania-based cleric Fethullah Gülen. The Turkish government accuses Gülen of having established a "parallel state structure" and for being behind the failed coup attempt in 2016.
During the hearing on November 1-2, 2018, the court ruled to continue Baransu's detention, bringing his time in detention to three years and eight months.
Baransu was unable to attend his next hearing on February 4, 2019, due to health problems.
At the hearing on March 22, 2019, Baransu repeatedly denied the charges brought against him, stating that while he had handed over thousands of documents relating to the Balyoz Operation, he had never seen the one he is being charged with revealing. He similarly denied claims of membership with the Gülen movement.
At the 16th hearing on July 11, Baransu gave his defense statement, which he could not complete in the previous hearing. The prosecutor claimed that his statement insulted a public officer, and therefore demanded it to be sent to the Chief Prosecutor's Office. The court ruled the continuation of his detention and to hear new witnesses during the next hearing, which will be held between August 27-29, 2019.