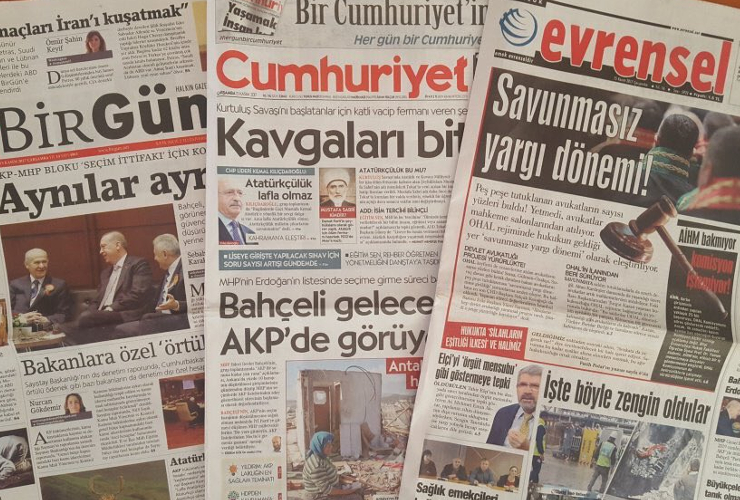 Alican Uludağ, Duygu Güvenç
Defendants: Alican Uludağ, Duygu Güvenç
Media Outlet and Position: Cumhuriyet newspaper – Journalists
Accusations: Publicly insulting the Turkish nation and the state
Possible sentence: –
Court: İstanbul 2. Criminal Court
Case Background: 
Independent Cumhuriyet newspaper journalists Alican Uludağ and Duygu Güvenç are facing charges of "publicly insulting the Turkish nation and the state" over three articles published in the daily. Articles titled "USA-oriented justice", "While hostage-diplomacy collapses", and "Arrest and release: Is it judiciary or the state?" were cited as criminal evidence against the journalists. All three pieces were about the controversial detention of American pastor Andrew Brunson in Turkey, who returned to the US after his release on October 12, 2018.
Pastor's detention had created political tension between the two countries. Following Brunson's release, Ankara Public Prosecutor's Office filed a suit against journalists Uludağ and Güvenç on the charges of "overtly insulting the Turkish nation and the state".
During the first hearing which took place on December 20, 2018, Uludağ asked for his acquittal. Güvenç was absent due to travel abroad.
At a hearing on April 4, 2019, Güvenç was absent again, while Uludağ and his lawyers were present in the courtroom, repeating his request for acquittal. The court adjourned the hearing until June 20.
During the hearing on October 10, 2019, Güvenç told the court: "A sentence will mean that no journalist will be able to report on diplomatic negotiations". Her lawyer requested the Izmir 2. High Criminal Court, where Pastor Brunson's trial is being held, to send a copy of the case file. İstanbul Court accepted the request, adjourning the trial until January 9, 2020.
During the hearing on January 9, the court noted that, following Güvenç's lawyer's request in the previous hearing, only the detailed ruling was received from the case file of Pastor Brunson's trial in İzmir. Lawyers repeated their request for a full copy of the case on the ground that detailed ruling is not enough to prepare their defense. The court rejected this request and granted defense lawyers additional time to prepare their statements. The trial is adjourned until April 16.
Due to suspension of all judicial proceedings in March and April because of COVID-19 pandemic, the April 16 hearing is postponed to July 2.
While Uludağ and Güvenç did not attend the seventh hearing of the case which took place on July 2, Güvenç's lawyer stated that the term "hostage-diplomacy" was not invented by Güvenç, and that the news about the alleged crime based on the facts and should be evaluated within the framework of freedom of expression and freedom of the press.
The hearing is postponed to October 22, 2020.