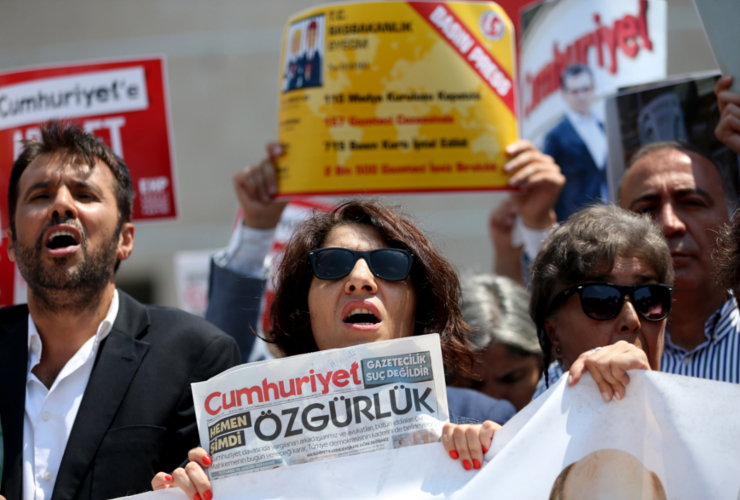 Alican Uludağ, Olcay Büyüktaş Akça
Defendants: Alican Uludağ and Olcay Büyüktaş Akça
Media Outlet and Position: Cumhuriyet newspaper – Reporters
Accusations:  "Disclosing the identities of those who denounce the crime and criminals"
Possible sentence: From 1 years to 3 years
Court: İstanbul 32. High Criminal Court
Case Background:
Alican Uludağ, an Ankara correspondent of independent Cumhuriyet, and  Olcay Büyüktaş Akça, managing editor of the daily, are facing charges of "disclosing the identities of those who denounce the crime and criminals" over an article titled "The police knew about the preparations for the massacre in Ankara train station eight days ago" that was published on November 22, 2019.
The article reported that ISIS members allegedly tried to purchase "nitrate 33" fertilizer from a dealer in southeastern town of  Nizip, Gaziantep, 11 days before the bomb attack in Ankara on October 10, 2015, which killed 103 people. The news article was reporting that the dealer allegedly reported the incident to the police and the police department did not arrest the suspects despite knowing their names who later conducted the bombing attack.
An investigation was opened against journalists after a complaint was filed by the local dealer in Gaziantep due to his name being mentioned in the report.  Later on, the Nizip Public Prosecutor's Office sent the investigation file to Istanbul with the decision of non-jurisdiction.
The Istanbul Chief Public Prosecutor's Office launched an investigation against Uludağ and Büyüktaş Akça.
In the indictment completed on March 17, 2020, Uludağ was charged with "disclosing or publishing the identities of those who denounce crimes and criminals" under Article 6/3 of the Anti-Terror Law. Büyüktaş Akça was requested to be sentenced for being the responsible editor at the time the article was published.
The first hearing took place on October 22, 2020. Uludağ stated that the news report was in the public interest and the action was nothing but exercising constitutional rights.
The court requested for the indictment from Ankara 4. High Criminal Court which conducted the trial of the massacre to be submitted until the next hearing, adjourned the trial to January 12, 2021.
During the hearing on January 12, 2021, Uludağ rejected all charges and requested his acquittal. The court decided to wait for a reply to its request from Ankara 4. High Criminal Court.
During the third hearing on March 16, 2021, journalist Olcay Büyüktaş Akça and her lawyer attended the hearing. The court notified the defendant Akça and lawyers that the requested indictment against co-defendant Uludağ was submitted by the Ankara 4th High Criminal Court.
Akça stated that she rejects all accusations and would not accept a suspended sentence either.
Olcay's lawyer also requested that the missing documents in the case file be completed. The court adjourned the hearing until June 15 on the ground that the examination of the file submitted by Ankara 4. High Criminal Court would take considerable time.