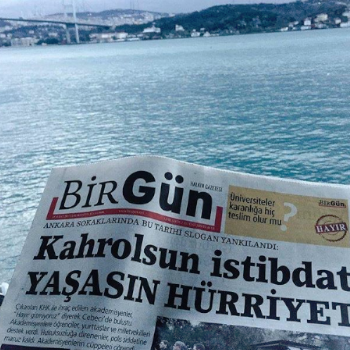 Defendants: Barış İnce, Bülent Yılmaz, Cansever Uğur, İbrahim Aydın
Media Outlet and Position: BirGün – Editors, Executives
Accusations: Aiding and abetting a terrorist organization whilst not being a member
Possible sentences: up to 15 years
Court: İstanbul 32. High Criminal Court
Case background:
Four editors and executives of independent BirGün newspaper, İbrahim Aydın, Barış İnce, Can Uğur and Bülent Yılmaz are facing up to fifteen years in prison on charges of "aiding and abetting a terrorist organization whilst not being a member" over their reporting of an anonymous Twitter account's posts, which was accused of revealing inside knowledge of the Turkish government and causing speculation. Journalists are being prosecuted over news articles on social media posts shared between 2013 and 2014 by an anonymous account named Fuat Avni.
The first hearing took place on November 26, 2019, where all four defendants submitted their defense statements. BirGün's then-managing editor İnce stated that coverage of the account posts in dispute was widespread in Turkish mainstream media and rejected all charges.
The court adjourned the next hearing until March 5, 2020, for the prosecution to prepare a final opinion and the requested documents to be submitted.
Following the suspension of all judicial proceedings in March and April due to COVID-19, the latest hearing to take place on  April 14 is postponed to June 30.