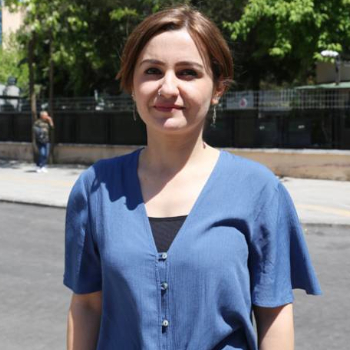 Defendants: Durket Süren
Media Outlet and Position: Jin News – Reporter
Accusations: Spreading terrorist propaganda; Aiding and abetting a terrorist organization
Court: Diyarbakır 11. High Criminal Court
Charges: –
Case Background:
Durket Süren, a former reporter for pro-Kurdish Jin News agency, was briefly detained in on March 1, 2018 Lice district of Diyarbakır, where she went to follow a news story, for a search warrant issued on her behalf due to an active proceeding. Süren was released on March 5 after four days under detention.
In the indictment, Süren's social media posts, recordings of her phone calls with contacts and the sales of now-closed pro-Kurdish newspapers Azadiya Welat and Özgür Gündem were included as criminal evidence against her, requesting her to be tried on the charges of "spreading terrorist propaganda" and "helping a terrorist organization knowingly and willingly". Her membership of the Free Journalists Association and the phone calls she made for with her news sources for the program called ''Kadın Bakışı'' (Women's Perspective) she did in 2017 were also cited as criminal evidence in the indictment.
The first hearing took place on May 8, 2019, at Diyarbakır 4. High Criminal Court. Süren stated in her first defense that she worked for a women's news agency and reported on women's rights and said that she had a social media account but did not have any propaganda posts. The second hearing was postponed to October 2, 2019.
During the third hearing on February 5, 2020, which was proceeded now by Diyarbakır 11. High Criminal Court, Süren did not attend the hearing due to being out of the city. In its interim decision, the court decided to wait until the results of the criminal and digital reports from the Investigation Board of Financial Crimes and postponed the hearing to May 18, 2020.
The hearing on May 18, 2020, was postponed due to suspension of all judicial proceedings in May because of the COVID-19 pandemic.
During the next hearing that took place on September 28, 2020, the Court ruled to wait for the digital examination report to be submitted by the Diyarbakır Criminal Police Department and adjourned the next hearing to January 25, 2021.
During the hearing on January 25, 2021, the court informed the defense that the requested Criminal Police Report was submitted, but the examination report on the digital materials has not. The court decided to wait until the report on the digital materials to be submitted and adjourned the next hearing until April 26, 2021.
The April 26 hearing was postponed due to the examination of digital materials expected was not submitted to the court.
The next hearing will be held on September 20, 2021.