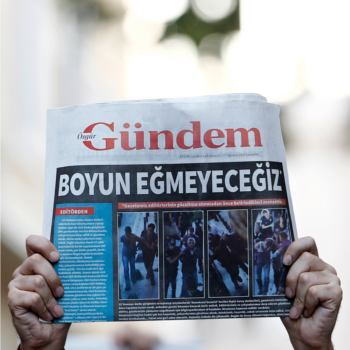 Eren Keskin, Reyhan Çapan, Hüseyin Aykol, Hasan Başak, +4 others
Defendants: Eren Keskin, Hüseyin Aykol, Reyhan Çapan, Hasan Başak, İslam Tüner, Lütfi Yavuzaslan, Methi Kaya, and Kemal Yakut
Media Outlet and Position: Özgür Gündem – Co-editors-in-chief, managing editor and journalists
Accusations: Praising the crime and criminal; Terrorist propaganda; Overtly inciting to commit a crime
Possible sentence:  2 years 2 months to 9 years 8 months
Court: İstanbul 13. High Criminal Court
Case Background: 
Editors-in-chief of now-closed Özgür Gündem newspaper, Eren Keskin and Hüseyin Aykol face charges of "making terrorist propaganda," "praising the crime and criminal" and "inciting public to commit a crime" along with daily's managing editor Reyhan Çapan and journalist Hasan Başak.
During one of the hearings on July 17, 2019, the prosecutor requested the defendants to be found guilty and sentenced. Eren Keskin's file was separated from the case. The court adjourned the hearing until November 21, giving the defense additional time to prepare their statements.
Several other cases filed against dozens of editors, journalists, and columnists for pro-Kurdish Özgür Gündem who were brought to court on the charges of "overtly inciting a crime" and "terrorist propaganda" over the daily's articles and reports. Journalists are being tried for their participation in the solidarity campaign, "Editors-in-Chief on Watch" for the newspaper.
During the hearing on November 21, journalists' lawyers requested additional time to prepare defense statements due to a legislative amendment, also requested a long-awaited result of another case against journalists to be submitted to the court. The court adjourned the case until February 20, 2020.
During the hearing on February 20, the lawyer of Aykol and Çapan, stated that the charges in anti-terror law are being used to silence journalists and the prosecutor has failed to establish any concrete link between the alleged crime and defendants. Court ruled to issue an arrest warrant for Başak for his defense statement to be taken. Trial was adjourned until May 14.
Due to the suspension of all judicial proceedings from late March until June 15 because of the COVID-19 pandemic, the May 14 hearing was postponed until June 16.
None of the defendants attended the hearing on June 16. Defense lawyers stated that at this stage they have no further requests.
The next hearing took place on October 1. It was noted that one of the judges in the panel had changed. Journalists Aykol and Çapan did not attend the hearing. The court ruled to wait for the arrest warrant against non-journalist defendants to be implemented. Next hearing was adjourned until December 3, 2020.
During the hearing on December 3, the defendant's lawyers submitted an excuse of absence to the court. The court accepted the requests and adjourned the hearing to February 24, 2021.
During the 19th hearing on February 24, the court ruled to wait until the arrest warrants against several co-defendants in the case were executed and postponed the hearing until June 22.