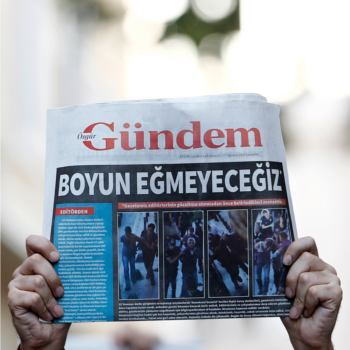 Reyhan Çapan, Hüseyin Aykol, Hasan Başak
Defendants: Hüseyin Aykol, Reyhan Çapan, Hasan Başak
Media Outlet and Position: Özgür Gündem – Co-editors-in-chief, managing editor and journalists
Accusations: Praising the crime and criminal; Terrorist propaganda; Overtly inciting to commit a crime
Possible sentence: –
Court: İstanbul 13. High Criminal Court
Case Background: 
Editors-in-chief of now-closed Özgür Gündem newspaper, Eren Keskin and Hüseyin Aykol face charges of "making terrorist propaganda," "praising the crime and criminal" and "inciting public to commit a crime" along with daily's managing editor Reyhan Çapan and journalist Hasan Başak.
During one of the hearings on July 17, 2019, the prosecutor requested the defendants to be found guilty and sentenced. Eren Keskin's file was separated from the case. The court adjourned the hearing until November 21, giving the defense additional time to prepare their statements.
Several other cases filed against dozens of editors, journalists, and columnists for pro-Kurdish Özgür Gündem who were brought to court on the charges of "overtly inciting a crime" and "terrorist propaganda" over the daily's articles and reports. Journalists are being tried for their participation in the solidarity campaign, "Editors-in-Chief on Watch" for the newspaper.
During the hearing on November 21, journalists' lawyers requested additional time to prepare defense statements due to a legislative amendment, also requested a long-awaited result of another case against journalists to be submitted to the court.
The court adjourned the case until February 20, 2020.