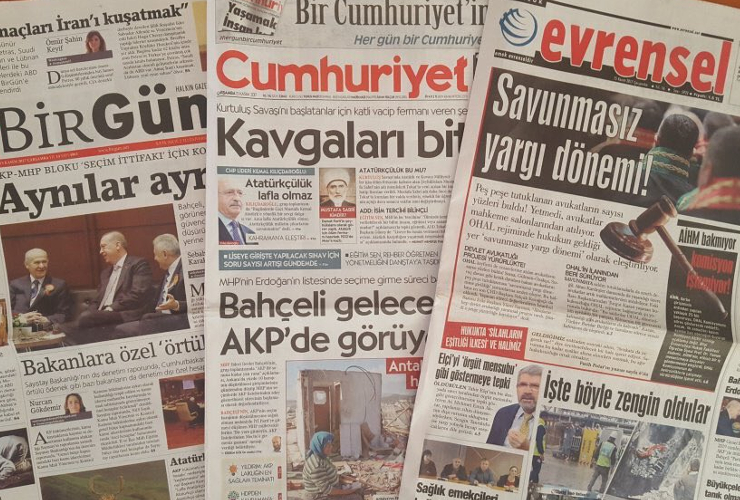 Hazal Ocak, Olcay Büyüktaş, İpek Özbey, Vedat Arık
Defendants: Hazal Ocak, Olcay Büyüktaş, İpek Özbey, Vedat Arık
Media Outlet and Position: Cumhuriyet – Reporter, Editors-in-chief, Photojournalist
Accusations: Targeting officials who participated in  anti-terror operations; Violation of privacy
Possible sentence:  From 5 years up to 14 years
Court: İstanbul 26. High Criminal Court
Case Background:
Reporter and editors of daily Cumhuriyet  – Hazal Ocak, Olcay Büyüktaş, İpek Özbey and Vedat Arık – are facing criminal charges of "targeting officials who participated in anti-terror operations" and "violation of privacy" over a news story titled "Unlicensed Construction by the Bosphorus" published on April 14, 2020, regarding an illegal construction on a rental land by the President's Communications Director Fahrettin Altun.
Journalists were summoned on April 30, 2020, to testify under an anti-terror investigation after the newspaper reported on a demolition carried out on the rental property. According to Cumhuriyet's report, the land, situated on Istanbul's Bosporus, is owned by the Directorate General of Foundations, which is responsible for managing and auditing thousands of foundations still in operation since the fall of the Ottoman Empire, as well as the possession of the lands belonging to these foundations. The newspaper said Altun rented this state land far below the market price, for about €37 per month, and had been constructing illegal elements on it, such as a wall, a pavilion and a fireplace. Altun claimed that his house was photographed and his address was revealed in Cumhuriyet's report, thereby making him an open target for terrorist organizations.
During the first hearing on December 16, 2020, the defendants refused the allegations that they had targeted Altun on the ground that Altun being a public figure and denied all the charges.
During the second hearing on March 18, 2021, journalists and their lawyers were present in the courtroom. The public prosecutor requested complainant Altun's request to attend the next hearings to be granted. Court granted the request and sent the case file over to the prosecutor's office to submit a final opinion.
During the third hearing on June 24, 2021, the prosecutor submitted the final opinion requesting journalists to be sentenced on the charges of "targeting officials who participated in anti-terror operations" and "the violation of privacy".
Journalists requested additional time to prepare their final defense statements against the prosecutor's opinion. The next hearing will be held on December 1, 2021.