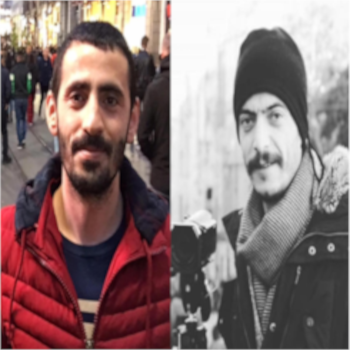 İdris Sayılğan, Naci Kaya
Defendants: İdris Sayılğan & Naci Kaya
Media Outlet and Position: Mezopotamya Agency – Reporters
Accusations:  Entering prohibited military zones
Possible sentence: –
Court: Edirne 8. Criminal Court
Case Background:
İdris Sayılğan and Naci Kaya, reporters for pro-Kurdish Mezopotamya Agency, are being prosecuted for allegedly "entering military zones" without permission under Article 332 of the Turkish Criminal Code while reporting on Syrian refugees who were trying to cross borders between Turkey-Greece.
The indictment claims that Sayılğan and Kaya were trespassing prohibited "first degree" military zone of Edirne Pazarkule military base on February 29, 2020.
The first hearing was held on October 8, 2020. Sayılğan and Kaya attended the hearing via Audio-Visual Informatics System (SEGBİS) following their lawyers' requests. Sayılğan and Kaya stated in their defense that they were reporting on the situation of refugees crossing the border with Greece. They further stated that they did not know they were in a military zone and there was no sign in the area indicating that it was a military zone.
During the hearing on January 27, 2021, the court heard a military officer as a witness who stated that the area where Sayılğan and Kaya were caught and detained was a forbidden military zone where only immigrants could enter and the journalists were caught with cameras in their hands while taking photos and videos of the immigrants. The prosecutor requested of the hearing of other witnesses to be waived, claiming that there would be no new contribution to the case file. He also requested the file to be sent to the prosecutor's office for the preparation of the final opinion.
The court accepted the prosecutor's request on witness hearings and sent the file to the prosecutor's office for the final opinion.
The trial was adjourned until April 14, 2021.