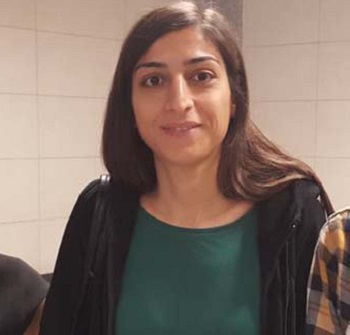 Media Outlet and Position: Özgür Gündem – Managing editor
Accusations:  Spreading terrorist propaganda; Spreading terrorist propaganda via the press; Publishing statements on behalf of terrorist organizations
Possible sentence: up to 15 years
Court: İstanbul 2. High Criminal Court
Case Background:
Reyhan Çapan, the managing editor of now-closed pro-Kurdish Özgür Gündem newspaper, faces trial on the charges of "spreading terrorist propaganda", "spreading terrorist propaganda via the press", and "publishing statements on behalf of terrorist organizations" based on 18 different indictments prepared against Çapan. She was accused of the articles published in 2012, 2013 and 2014 when she was the managing editor of the daily.
The Istanbul 2nd High Criminal Court accepted the 18 indictments merged under one case file and held the first hearing on December 4, 2014. During the first hearing, Çapan submitted a two-page written defense statement to the court rejecting all accusations. Her lawyer stated that the articles in question for the charges against Çapan were penned by other journalists and columnists contributing to the newspaper.
The second hearing of the trial was held on March 5, 2015. It was noted that the public prosecutor assigned to the case was replaced. The hearing was adjourned in order to take Çapan's defense regarding other case files against her. During the third hearing held on May 11, 2015, Çapan stated that her defense regarding other cases was the same as her previous defense.
During the fourth hearing on June 2, 2015, the court decided to adjourn the hearing to take the defense statements of the people who authored and published the articles in the indictment together with Çapan.
In the following hearings of the trial, the court decided to postpone the trial to wait for the fulfillment of the arrest warrants issued against some co-defendants.
During the 17th hearing held on September 23, 2020, it was noted that a member of the panel of judges was replaced. The hearing was adjourned due to Çapan and her lawyers submitting an excuse for leaving. The next hearings were adjourned until the arrest warrants for some co-defendants to be executed. The public prosecutor has not yet submitted a final opinion on the case.
The next hearing will be held on November 30, 2021.
Read more about the case.