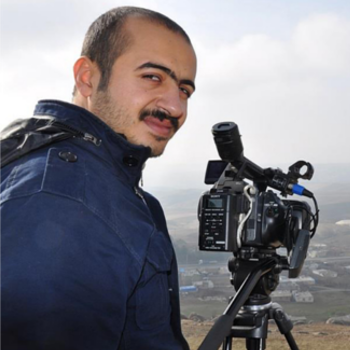 Defendants: Rojhat Doğru
Media Outlet and Position: Gale Kurdistan TV – Correspondent
Accusations: Membership of a terrorist organization; Spreading terrorist propaganda; Disrupting the unity and integrity of the state; Willful and malicious injury
Possible sentence: Aggravated life sentence
Court: Diyarbakır 8. High Criminal Court
Case Background:
Rojhat Doğru, a former Iraq correspondent for Gale Kurdistan TV, is facing several charges based on a witness statement claiming that he saw Doğru "shooting with a gun in one hand and holding a camera in the other".
Doğru was arrested on the charge of "membership of a terrorist organization" on December 5, 2018. He was released on February 26, 2019 with judicial control. During the hearing on October 15, 2019, Doğru's lawyer requested the judicial control measure to be lifted. Court lifted the judicial control but imposed a travel ban on journalists, adjourning the next hearing to January 14, 2020.
During the January 14 hearing, Doğru denied all accusations and replied to the court's questions about his participation in public protests in Kobane in 2015 as being present there only for reporting. Doğru also stated that he received a prize for his reporting from that time. The court ruled the camera footage in file to be examined and adjourned the hearing until March 24.
Due to suspension of all judicial proceedings in March and April because of COVID-19 pandemic, the March 24 hearing was postponed to June 18.
Journalist Doğru, imprisoned as part of a different investigation, didn't attend the June 18 hearing. Court granted Doğru's lawyer additional time to examine and respond to the expert's report and ruled to have Doğru brought to court in person for the next hearing. The hearing adjourned to October 13, 2020.
During the October 13 hearing, the court ruled to merge the two trials against him and to hear witnesses in the merged file. Doğru's judicial controls were also lifted.
During the hearing on January 14, 2021, the court could not hear the designated witnesses and ruled to send writs requesting information on the whereabouts of witnesses in order to be heard in the next hearing.
During the hearing on March 4, 2021, one of the witnesses to testify from prison could not be listened due to technical problems in the Audio-Visual Information System (SEGBİS). The court further ruled to waive hearing another witness whose current address could not be found.
The court adjourned the trial until May 4, 2021.