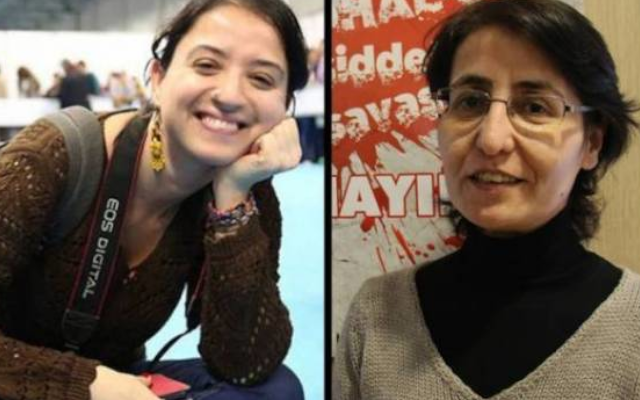 Semiha Şahin, Pınar Gayıp
Defendants: Semiha Şahin, Pınar Gayıp
Media Outlet and Position: Etkin Haber Ajansı – Editor, reporter
Accusations: Membership of a terrorist organization; Terrorist propaganda
Possible sentences: 9 years 9 months to 29 years 9 months – 8 years 9 months to 23 years 9 months
Court: İstanbul 23. High Criminal Court
Case Background: 
Semiha Şahin, an editor for Etkin News Agency (ETHA), and Pınar Gayıp, a reporter for ETHA, were arrested on April 19, 2018, after a week in detention following a police raid on their houses on April 13, 2018.
The journalists are accused of "membership of a terrorist organization" and "making terrorist propaganda" and were placed in pretrial detention, along with two other individuals.
Having spent almost five months in pre-trial detention, the journalists were brought to court for the first time on September 10, 2018. Emphasizing that ETHA is still a legally broadcasting news agency, the journalists requested they be released on bail.  The court ruled to sustain their pretrial detention.  At their second hearing to December 5, 2018, both journalists' detention was again sustained, despite their requests for release on bail.
In the meantime, ETHA's news site and Facebook page have been blocked by the court ruling. Its news articles are only available via VPN extension.
During the third hearing on January 30, 2019, defendants' lawyers requested additional time to submit their defense statement and asked journalists to be released from detention. The court ruled the continuation of journalists' detention on the grounds that having only judicial control would not be sufficient.
At their hearing on March 27, 2019, their detention was prolonged once again. Defense lawyer's request for an extension, on the grounds that they had not yet had a chance to consult the evidence against their clients, was denied.
During the most recent hearing on June 13, 2019, both Şahin and Gayıp were released on bail marking 14 months in detention. The court adjourned the next hearing until October 15, during which both journalists did not attend the hearing.
During the hearing on December 11, 2019, the court lifted the house arrest of both journalists, replacing it with a travel ban. Court also ruled to wait until the report from the cyber crimes unit was submitted, and adjourned the next hearing until February 27, 2020.
During the hearing on February 27, the court ruled to wait for the digital examination report to be received from the cyber crimes department. Next hearing adjourned until May 14.
Due to suspension of all judicial proceedings between March and June because of COVID-19 pandemic, the most recent hearing in this case on May 15 was postponed to September 9.
During the hearing on September 9, the court ruled to wait for a response from the Anti-Terror Branch of the Istanbul Police Department to the request regarding the digital materials.
The next hearing that took place on December 22 was adjourned to February 11, 2021, in order the missing reports to be completed.
The February 11 hearing was not held due the structural changes on the court panel by the Council of Judges and Prosecutors (HSK) shortly before the hearing, therefore the court postponed the hearing to April 15, 2021.