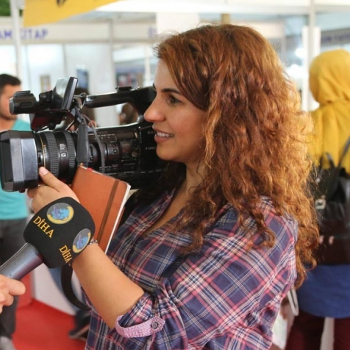 Defendants: Şerife Oruç
Media Outlet and Position: DİHA – Reporter
Accusations: Membership in a terrorist organization
Possible sentence: up to 15 years
Court: Batman 2. High Criminal Court
Case Background: 
Şerife Oruç, a reporter for the now-shuttered pro-Kurdish DİHA news agency, was arrested on July 5, 2016, and detained in Turkey's Batman province on accusations of "membership of a terrorist organization". Oruç and two others were detained by police while reporting in the field.
After one year in detention, Oruç appeared before the court for the first time on July 27, 2017, when her detention was extended.
Oruç's lawyers reported that there is no concrete evidence against Oruç besides the witness statements. According to local news, the court decided to allow witnesses to be heard who were added to the case at short notice, and later adjourned the hearing.
After the sixth hearing, Oruç was released on July 9, 2018, pending trial after two years in detention in the Batman M-type prison.
On November 27, 2018, the judicial committee decided to eliminate certain deficiencies in the files and to hear witnesses at the next hearing, set for February 26, 2019.
During the 13th hearing on February 11, 2020, the court resumed the trial while Oruç was in absentia. The court ordered an arrest warrant for Oruç for not fulfilling the judicial control obligations and adjourned the hearing until May 12.
During the hearing on December 15, 2020, the prosecutor requested additional time for preparing the final opinion. and Oruç to be tried additionally on the charges of "disrupting the unity and integrity of the state" under Article 302 of the Criminal Code. Prosecutor's request for additional charges were based on a witness statement named Devran Çakır against Oruç.  The court ruled to send writs to Batman Police Department for witness Çakır to be heard in the court.
Oruç's lawyer objected to the prosecutor's request for separate charges under Article 302.
During the hearing on March 11, 2021, the public prosecutor requested the ongoing investigation against Oruç on the allegations of "disrupting the unity and integrity of the state" to be included in this criminal case file. The court ruled to send a request to the Public Prosecutor's Office for the status of and further information on the investigation and ruled for two witnesses to make ready for testifying in the next hearing.
During the hearing on June 26, 2021, Oruç was represented by her lawyer in the courtroom. The prosecutor requested additional time for the missing documents in the file be completed.
Oruç's lawyer stated that they withdraw their request for re-hearing the witness in the courtroom who witnessed against Oruç in previous hearings as the multiple court writs sent to witness to attend the trial.
The court ruled to issue an arrest warrant for the witness to be forcefully brought to the court in the next hearing and adjourned the trial until November 11, 2021.