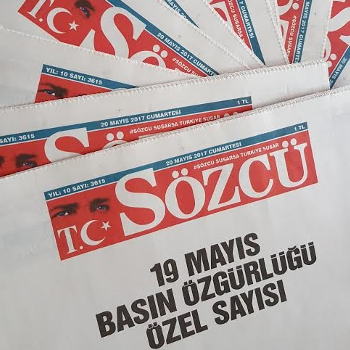 Defendants: Burak Akbay, Mediha Olgun, Gökmen Ulu, Yonca Yücekaleli, Emin Çölaşan, Necati Doğru, Metin Yılmaz, Mustafa Çetin, Yücel Arı
Media Outlet and Position: Sözcü Newspaper – Editor-in-Chief, Journalists, Columnists, Executives
Accusations: Founding and leading a terrorist organization; Making terrorist propaganda; Committing a crime on behalf of a terrorist organization whilst not being a member; Aiding and abetting a terrorist organization whilst not being involved in the hierarchical order
Possible sentence: varies from 5 up to 30 years
Court: İstanbul 37. High Criminal Court
Case Background: 
Sözcü Newspaper, established in 2007 with an independent publishing policy, faces prosecution as part of the government purge of institutions and individuals following the political scandal of 17-25 December 2013.  The paper is accused of alleged links to US-based cleric Fethullah Gülen, whom Turkey's government accuses of having established a "parallel state structure" and who it blames for the failed coup of July 15, 2016.
Between 17 and 25 December 2013, the government initiated a series of operations in Ankara and İstanbul cities, detaining 89 people in total including three incumbent ministers' sons, the CEO of Halkbank, and other politicians and business people over bribery and corruption charges. These operations were also known as the breakdown of an alleged alliance between the AKP government and the Gülen movement.
Following these events,  Sözcü has been targeted over several articles published after the political scandal, through which the prosecution tried to establish alleged links between the paper and cleric Gülen. Sözcü journalists, Mediha Olgun and Gökmen Ulu, and daily's financial manager Yonca Yücekaleli, face imprisonment from 7.5  to 15 years on charges of "committing a crime on behalf of a terrorist organization whilst not being a member".
The newspaper owner Burak Akbay is being prosecuted for allegedly "founding and leading a terrorist organization", facing 15 to 30 years of imprisonment. Due to Akbay's absence during the last hearings, the court issued an arrest warrant against him.
During a hearing on November 7,2018 defense lawyers' requests to remove the judicial control, travel ban and repossession of defendants' digital material were rejected. The court also requested documents of another file against Sözcü journalists to be handed over to the prosecutor in order to prepare a final opinion.
Sözcü newspaper had already been subject to numerous cases, mostly due to its strong anti-government stance.
In a separate case, five journalists and executives of the daily were being prosecuted on the charges of "aiding and abetting a terrorist organization whilst not being involved in the hierarchical order", facing sentences of various jail terms from 7,5 up to 15 years. Defendants in the case: Newspaper's columnists Emin Çölaşan, Necatio Doğru, the Editor-in-Chief Metin Yılmaz, managing editor of online edition Mustafa Çetin, and online news editor Yücel Arı. Charges against another five journalists of the daily, that were to be investigated in relation to the same case, were dropped.
The first hearing in relation to this case took place on January 18, 2019. During the hearing, the court ruled the consolidation of both cases against Sözcü journalists and executives and adjourned the next hearing until April 18.
During the April 18 hearing, the court ruled to proceed with Burak Abay's trial separately. The prosecutor requested jail terms varying from five to 10 years for other 8 defendants, giving his final opinion in the case on the charge of "aiding and abetting a terrorist organization whilst not being involved in the hierarchical order."
Defense lawyers objected to prosecutor's final opinion, stressing that the case has not been fully investigated, lacking evidence and witness statements. The court adjourned the next hearing until June 14, 2019.
During the June 14-hearing, defendants Emin Çölaşan, Necati Doğru, Metin Yılmaz, Yücel Arı, Mediha Olgun, and Gökmen Ulu presented their statements. Other defendants were granted additional time, and therefore, the trial adjourned until September 4, 2019.