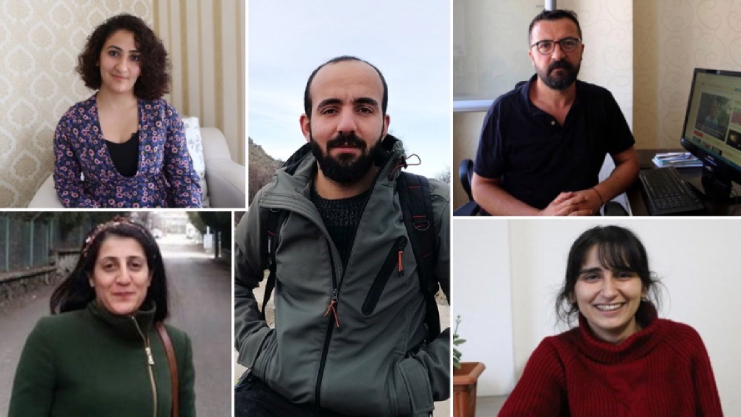 Adnan Bilen, Cemil Uğur +3 others
Defendants: Adnan Bilen, Cemil Uğur, Şehriban Abi, Nazan Sala, Zeynep Durgut
Media Outlet and Position: Mezopotamya News Agency, Jinnews – Correspondents, Freelance reporters
Accusations: Membership of a terrorist organization
Possible sentence: –
Court: Van 5. High Criminal Court
Case Background:
Mezopotamya News Agency Van correspondents Adnan Bilen, Cemil Uğur, Zeynep Durgut, Jinnews reporter Şehriban Abi and freelance reporter Nazan Sala were accused of "membership of a terrorist organization" over their reporting in September 2020 on alleged torture of two Kurdish men by Turkish military forces in the southern province of Van.
Bilen, Uğur, Abi, and Sala were arrested on October 9, 2020, after they reported on two Kurdish villagers who were allegedly dropped from a Turkish military helicopter after they were taken into custody on September 11. One of the villagers died in the hospital after spending 20 days in the intensive care unit.
An indictment against five journalists was prepared by the Van Chief Public Prosecutor's Office on February 11, 2021, marking journalists' four months in detention and requested journalists to be charged with "membership of a terrorist organization" and up to 15 years prison sentence for each.
The first hearing was held on April 2, 2021, where journalists attended the hearing via video-conferencing system SEGBIS from their prison cells. The court ruled to release all four journalists Bilen, Sala, Uğur, and Abi who were in pretrial detention with judicial control measures, and a travel ban abroad.
During the second hearing on July 2, 2021, journalists Bilen and Uğur were present in the courtroom while the rest of the co-defendants were represented by their lawyers.
The defense lawyers underlined that the journalists have reported on an alleged torture case by the officials to the public and requested the judicial control measures against journalists to be lifted. They rejected all charges against journalists requesting their acquittal.
The court ruled for the continuation of the judicial control measures and adjourned the hearing to October 21, 2021.