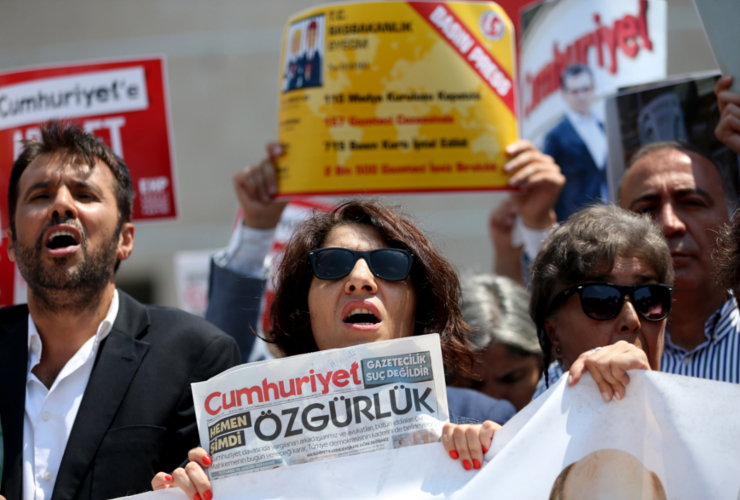 Alican Uludağ, Olcay Büyüktaş Akça
Defendants: Alican Uludağ and Olcay Büyüktaş Akça
Media Outlet and Position: Cumhuriyet newspaper – Journalists
Accusations:  "Disclosing or publishing the identities of those who denounce crimes and criminals" 
Possible sentence: –
Court: İstanbul 32. High Criminal Court
Case Background:
Journalist Alican Uludağ wrote a news article published in Cumhuriyet Newspaper on November 22, 2019 with the title "Police knew about the preparations for the station massacre in Ankara eight days ago". Upon the publication of the news, an investigation was initiated by the Istanbul Chief Public Prosecutor's Office against Olcay Büyüktaş Akça, the editor-in-chief of the newspaper, together with Uludağ.
In the news; it was reported that ISIS members allegedly tried to purchase "nitrate 33" fertilizer from a  dealer in Nizip, Gaziantep, 11 days before the bomb attack in Ankara, which killed 103 people on October 10, 2015. According to the news article, the owner of the fertilizer reported the incident to the police and it was alleged that the police department did not  apprehend  the suspects despite knowing their names and that these suspects took part in the station massacre.
After the news was published, the owner of the fertilizer dealership went to the Nizip Police Headquarter of Anti-Terrorism, where he reported, and filed a complaint because his name was mentioned in the news article. Later on, the Nizip Public Prosecutor's Office sent the investigation file to Istanbul with the decision of non-jurisdiction.
The Istanbul Chief Public Prosecutor's Office launched an investigation against Uludağ and Büyüktaş Akça.
In the indictment against Uludağ and Akça, completed on 17 March 2020, Uludağhas been charged with "disclosing or publishing the identities of those who denounce crimes and criminals" under  Article 6/3 of the Anti-Terror Law.
On the other hand, Büyüktaş Akça who did not participate in the commission of the crime allegedly committed by Uludağ within the scope of the Anti-Terror Law, but being the editor-in-chief in charge, was asked to be fined.
The first hearing of the case will take place on October 22, 2020.