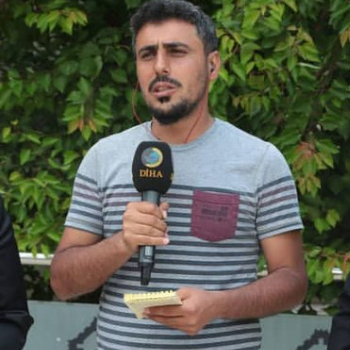 Defendants: Aziz Oruç, +5 Others
Media Outlet and Position: Dicle News Agency (DIHA) – Reporter
Accusations: Spreading terrorist propaganda, membership of a terrorist organisation,
Possible sentence: –
Court: Ağrı 2. High Criminal Court
Case Background: 
Aziz Oruç, a reporter of now-closed Dicle News Agency (DIHA), was arrested on December 18, 2019 and is facing charges of "being a member of a terror organisation'' and "making terrorist propaganda". Journalist Oruç was identified as a "member of a terrorist organisation" in the summary of proceedings prepared by the Doğubeyazıt District Police Department next to the Iranian border. Indictment cited previously filed lawsuits against him as the basis of the criminal charges.
Oruç, who lived in the Iraqi Kurdistan for three years due to the lawsuits filed against him in Turkey, was detained at the Armenia-Iran border when he was trying to flee to Europe on December 11, 2019.
He was thrown over the border fences to Turkey from Iranian border by security forces. Oruç was bare-footed and his clothes were torn down when he was found. He was detained by the Turkey's police forces in the border and sent to prison on December 18, 2019 on the allegations of "membership of a terrorist organization".
An indictment was prepared as a result of the investigation carried out by the Ağrı Chief Public Prosecutor's Office and was accepted by the Ağrı 2nd High Criminal Court.
On December 11, defendants Muhammet İkram Müftüoğlu, HDP Doğubayazıt District Co-chair Abdullah Ekelek were also arrested for helping Oruç. Dicle Müftüoğlu, also a reporter of DIHA, and Turgay Yılboğa and Yücel İlhan are also co-defendants in the case who are pending trial on the charges of "helping a terrorist organization".
Oruç had previously been sentenced to two years and one month in prison by Diyarbakır 9. High Criminal Court according to The Law of Fight Against Terrorism Article 7/2 because of his 12 social media posts in 2016 which were accused of spreading "terrorist propaganda."
The first hearing took place on July 21, 2020. Journalist Aziz Oruç, Muhammet İkram Müftüoğlu, HDP Doğubayazıt District Co-chair Abdullah Ekelek attended the hearing from their prison cell via Video Conferencing System (SEGBIS). Except for three other defendants being tried on probation and the defense lawyers, nobody was allowed into the courtroom.  During the hearing, the court heard the first defense statements of the defendants.
The court ruled the continuation of Oruç's detention.  Two defendants who were in pretrial detention were released on judicial control measures.
During the hearing on September 21, 2020, Oruç attended the hearing through the Audio and Video Information System (SEGBİS) from Ağrı Patnos Prison where he was in pretrial detention. During his statement, Oruç stated that he had been detained for 10 months for his journalistic work and rejected alleged links to any organization.
During the third hearing on November 9, 2020, the court released Oruç.
During the fourth hearing on April 16, 2021, Oruç was ready to attend the hearing in Ağrı with his lawyer via Video Conferencing System (SEGBIS) from Diyarbakır courthouse. However, the court ruled to adjourn the hearing until September 10, 2021 without the SEGBIS connection was established for missing documents in the case file to be completed.