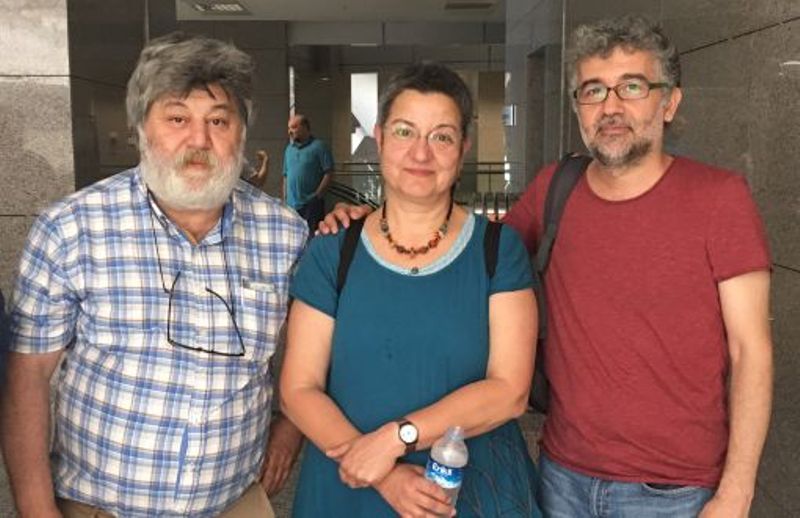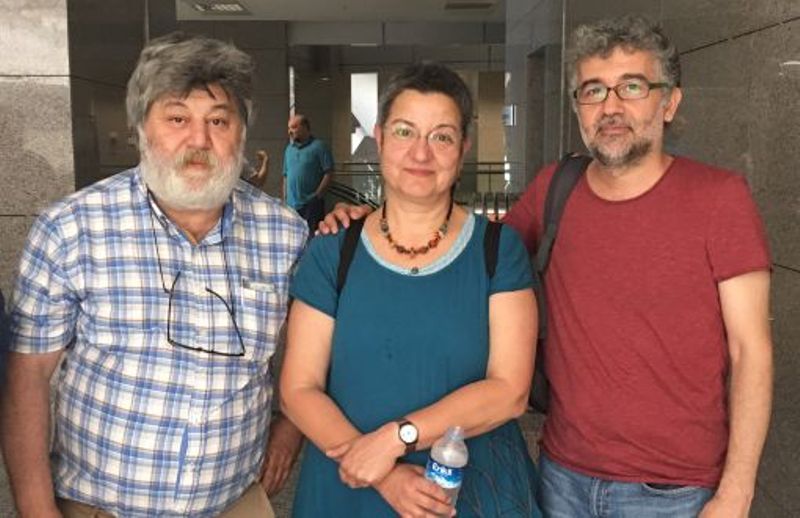 Erol Önderoğlu, Şebnem Korur Fincancı, Ahmet Nesin
Defendants: Erol Önderoğlu, Şebnem Korur Fincancı, Ahmet Nesin
Media Outlets and Positions: Özgür Gündem – Editors and journalists
Accusations: Terrorist propaganda; Publicly abetting crime; Praising a crime and the criminal
Possible sentence: 1.5  up to 7.5 years
Court: İstanbul 13. High Criminal Court
Case Background
Erol Önderoğlu, Şebnem Korur Fincancı, and Ahmet Nesin have been accused of "spreading terrorist propaganda" after acting as editor-in-chief for a day as part of a solidarity campaign for the now-closed pro-Kurdish newspaper Özgür Gündem.
Erol Önderoğlu, Turkey representative of Reporters Without Borders (RSF); Şebnem Korur Fincancı, the head of the Turkey Human Rights Foundation (TİVH); and writer and journalist Ahmet Nesin, were all jailed on June 20, 2016 following a court ruling. Önderoğlu and Fincancı were released on June 30, 2016 after 10 days in pre-trial detention, while Nesin was released on July 1, 2016.
The journalists face sentences from one year six months to 7 years and six months. During their seventh hearing on October 9, 2018 the court decided to wait for the implementation of an arrest warrant for Nesin, who is not in the country. The court was also waiting for an expert translation of certain documents from French into Turkish.
During the 9th hearing on January 28, 2019, the court lifted the arrest warrant for Nesin living abroad, after his defense statement arrived. His defense statement was sent to the prosecution in order for the prosecutor to submit his final opinion.
On February 27-hearing, the prosecutor repeated in his final opinion his request for jail sentences up to 7.5 years for each journalist. The court adjourned the final hearing to April 15 for defense lawyers to prepare their final statements.
The expected final hearing on April 15 is adjourned due to lawyers' request for additional time to prepare final statements. Court also accepted Önderoğlu's lawyer request that Önderoğlu be exempted from the next hearing, adjourning it till July 17.
During the hearing on July 17, 2019, Önderoğlu, Fincancı, and Nesin were all acquitted of all charges.
Public Prosecutor's Office appealed the acquittals.
3rd Criminal Chamber of İstanbul Regional Court of Appeals overturned the acquittal verdicts of three journalists on October 20, 2020 on the grounds that the first instance court did not pay sufficient attention to defendants' alleged intent of publishing the content. The appeal court requests re-examination.
Istanbul 13. High Criminal Court decided to comply with the decision of the 3rd Criminal Chamber of İstanbul Regional Court of Appeals to overturn the acquittals and sent a writ to Istanbul 23. High Criminal Court to merge the case file with the "Özgür Gündem Main Trial" case, where İnan Kızılkaya is also a co-defendant.
The second hearing on May 6, 2021 was postponed due to the Covid-19 measures.
The next hearing will be held on September 30, 2021.