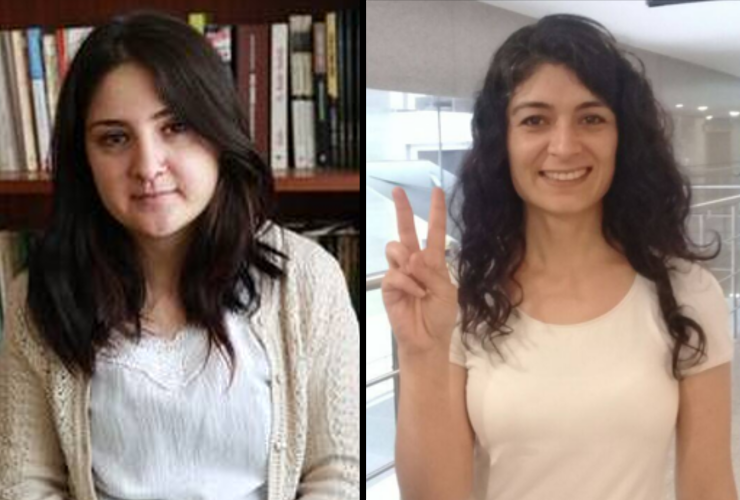 Havva Cuştan, İsminaz Temel
Defendants: Havva Cuştan, İsminaz Temel
Media Outlet and Position: ETHA – Journalists
Accusations: Membership of a terrorist organization; Making terrorist propaganda
Possible sentence: –
Court: İstanbul 27. High Criminal Court
Case Background: 
İsminaz Temel, an editor at the Etkin News Agency (ETHA), was detained along with her colleague Havva Cuştan, a reporter for ETHA on October 19, 2017, following a police raid on their houses. They were accused of "membership in a terrorist organization." The court ordered their formal arrest on October 25, 2017.  Temel and Cuştan were among 13 people arrested over their association with the Marxist-Leninist political party "Ezilenlerin Sosyalist Partisi" (Socialist Party of the Oppressed). Their news reports and social media posts, as well as the funerals that they attended, were cited as evidence against them.
Possession of books written by Abdullah Öcalan, the imprisoned leader of outlawed group Kurdistan's Workers Party (PKK), were added to the case as criminal evidence for Havva Cuştan.
Indictment for the trial was initially prepared for 23 people, 13 of whom are currently in pretrial detention. The first hearing was set for July 16-17, 2018, which marked almost nine months of pre-trial detention for Cuştan and Temel. After the first hearing, Cuştan was released, while Temel remained behind bars.
During the case's fourth hearing on February 14, 2019, Temel was also released on bail with a travel ban. During a hearing on April 24, the court rejected the request to lift travel ban on journalists.
Next hearing takes place on September 3, 2019.