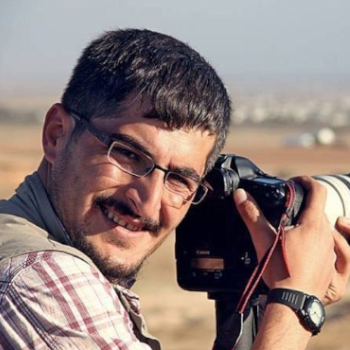 Defendants: Hayri Demir
Media Outlet and Position: Mezopotamya News Agency
Accusations: Conducting propaganda for a terrorist organization; Membership of  a terrorist organization
Possible sentences: –
Court: Ankara 15. High Criminal Court
Case Background:
Hayri Demir, a reporter for Mezopotamya News Agency, is facing criminal charges of "spreading terrorist propaganda" and "membership of a terrorist organization" for his reporting in northern Syria.
During the first hearing in this case on September 24, 2019, the indictment included photos found in two memory cards from a camera as evidence, which were stolen from Demir's house in 2017. The cards were allegedly found on the streets and given to the police. Demir requested additional time to prepare his defense. The court adjourned the next hearing till October 23, 2019.
During the most recent hearing on October 23, 2019, the court handed back the two memory cards to Demir. Demir presented his defense statement and the court adjourned the trial until January 23, 2020.
During the January 23 hearing, Demir repeated his claim that the memory cards used against him as criminal evidence were possessed illegally and requested further examination regarding the robbery of his house in 2017. The court requested the investigation file from the Ankara Chief Public Prosecutor's Office following Demir's statement. Demir also stated that some of the visuals among more than 50 visuals/photos included in the indictment were wrongfully cited as if taken by Demir, while the rest of the visuals were taken under sole purpose of journalistic activity.
Due to suspension of all judicial proceedings in March and April because of COVID-19 pandemic, the most recent hearing in this case on April 28 was postponed. Next hearing was adjourned to September 17.
Demir did not attend to the September 17 hearing. The court did not allow observers to enter the court room due to Coronavirus measures. Next hearing was adjourned to December 1, 2020.
---
Demir has faced several other cases on similar charges for his journalistic work. In May 2018, Demir was sentenced to 1 year 6 months and 22 days on the charge of "terrorist propaganda" over a news article and a post he shared on social media.
Demir is also a co-defendant in an ongoing case, with Artı-tv correspondent Sibel Hürtaş, on the charges of "inciting the public to hatred and animosity" and "conducting terrorist propaganda."
The Ankara Chief Public Prosecutor's Office seeks up to ten years and six months imprisonment for each in the indictment in relation to both accusations. The prosecutor filed the case against the two journalists along with 10 other defendants over their news reports and social media posts about a Turkish military operation in Afrin, Syria.
Both journalists were taken into custody in late January 2018 and released on bail after four days. Read the details about this case.