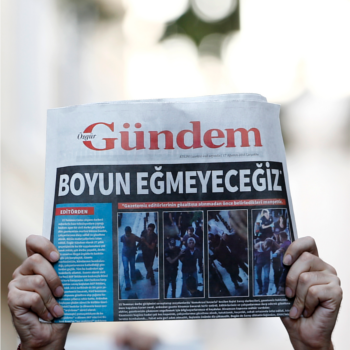 Hüseyin Aykol, Zana Kaya, İnan Kızılkaya, +1 other
Defendants:  Hüseyin Aykol, Zana Kaya, İnan Kızılkaya, Hatip Dicle
Media Outlet and Position: Özgür Gündem – Co-editor-in-chiefs, managing editor, politician
Accusations: Overtly insulting the government, judiciary, and security forces; Overtly insulting Turkish nation, Turkish Republic and the General Assembly of the Turkish Republic
Possible sentence: –
Court: İstanbul 2. Civil Court
Case Background: 
Editors, journalists and columnists for now-shuttered Özgür Gündem newspaper were brought to court on several different charges such as "overtly inciting a crime", "terrorist propaganda" or "overtly insulting government or state bodies" over the daily's articles and reports.
Four defendants have been reportedly subject to 14 different investigations by the chief public prosecutor's office in Istanbul. According to local reports, Chief Public Prosecutor had prepared 10 indictments on different charges for Aykol, 14 indictments for Kızılkaya, two for Kaya and one for politician Dicle, which were later merged by İstanbul 2. Civil Court under the charges of "overtly insulting the government, judiciary, and security forces" and "overtly insulting the Turkish nation, Turkish Republic and the General Assembly of Turkish Republic".
Aykol was earlier sentenced to three years nine months and one year ten months 26 days in two different cases. In a separate case, co-editor-in-chief Hüseyin Aykol and reporter Ersin Çaksu were sentenced to 5 years and 3 months for "insulting the President". Aykol and Çaksu's sentences were suspended.
On February 21, 2019, the court issued an arrest warrant for Kurdish politician Hatip Dicle in order to get his statement and adjourned the next hearing. During the hearing on March 28, defense lawyers requested additional time. The court adjourned the next hearing until May 16.
On October 10 and February 6 hearings, the court decided to wait for the execution of the arrest warrant issued for defendant Dicle, adjourning the trial until June 2, 2020.
Due to suspension of all judicial proceedings since early March until June 15 because of COVID-19 pandemic, the June 2 hearing is postponed.
Many other journalists are being tried for daily's articles and also for their participation in the solidarity campaign, "Editors-in-Chief on Watch" for the newspaper Özgür Gündem.