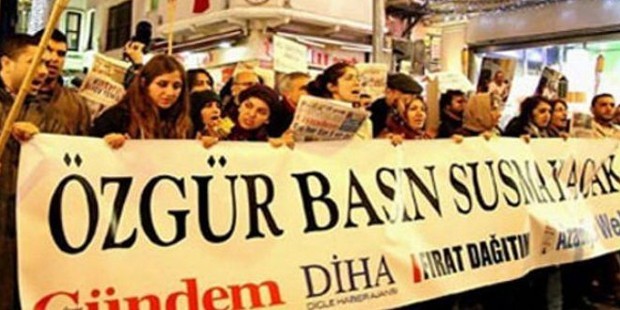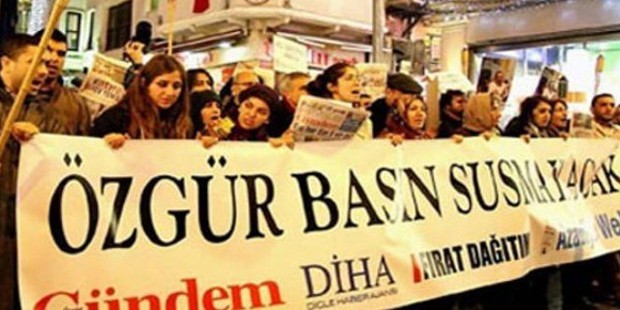 Defendants: 46 journalists and media workers from different Kurdish media outlets
Media Outlets: Dicle Haber Ajansı (DİHA), Özgür Gündem, Azadiya Welat, Demokratik Modernite, Fırat Distribution Company and others
Accusations: Terrorist propaganda
Possible sentence: –
Court: İstanbul 3. High Criminal Court
Case Background: 
In March 2011, 32 journalists and media workers were arrested, put in pretrial detention following a string of police operations against Kurdish media outlets such as Dicle Haber Ajansı (DİHA), Özgür Gündem, Azadiya Welat. With a total of 46 defendants, the case has been continuing since 2011. The defendants have been accused of being the "media branch" of the Kurdistan Communities Union (KCK) which serves as an umbrella group for Kurdish nationalists with strong links to the outlawed Kurdish Workers' Party (PKK).
Out of the 46 defendants, as many as 32 jailed journalists and media workers have been released at different times over a period of several years. The journalists' reports, interviews and phone calls have been presented as criminal evidence against them.
They were prosecuted in Special Courts, which were at the time authorized to function under the "state of emergency". After the removal of the status of the Special Courts, the case was handed over to the High Criminal Courts. The defendants' lawyers objected to the move, arguing that the High Criminal Courts should start the trial from the beginning and the previous court proceedings should be considered null and void.
Ironically, all of the judges who served on the Istanbul 15th "Special" High Criminal Court and presided over the case were later dismissed and prosecuted for alleged links to the outlawed Gülen movement.
The journalists have been barred from traveling, as the police have confiscated their passports despite the lifting of a travel ban that had been placed on them earlier. During a hearing on September 7, 2018, the court ruled the journalists' passports be restored, and adjourned the hearing until January 11, 2019.  At this hearing, a request to review files related to conspiracy charges in a separate case against two of the defendants was approved. At the next hearing on May 9, 2019, after 7 years of proceedings, these additional files were reviewed.
The 16th hearing on May 7 lasted for only 10 minutes because the court ruled to wait for missing files in the case. The request by İstanbul 14. High Criminal Court to merge the case of defendant Yüksel Genç with this one was rejected by the court. The trial was adjourned to October 22, 2019.
During the hearing on October 22, the court accepted the request to merge the case of Yüksel Genç with the KCK case in which 46 journalists stand trial. The next hearing is on February 25, 2020.
Defendants Yüksel Genç and Hüseyin Deniz were in attendance on the hearing February 25. Genç delivered his defense statement and rejected the allegations leveled against him.
The court decided to wait for defendant İsmet Kayhan's arrest warrant to be executed, rejected the demands to separate the file of Çağdaş Ulus and to exempt Genç from upcoming hearings. The trial was adjourned until July 2.