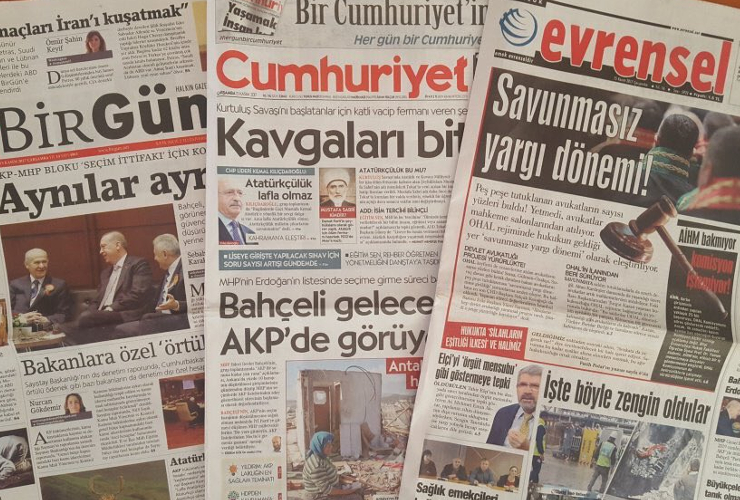 Defendants: Pelin Ünker, Orhan Erinç
Media Outlet and Position: Cumhuriyet – Finance news editor and executive
Accusations: Attack on personal rights; Defamation
Possible sentence: 10.000 Turkish Lira (Compensation)
Court: İstanbul 21. Civil Court
Case Background: 
Cumhuriyet's former economics correspondent and finance editor Pelin Ünker and former newspaper executive Orhan Erinç are accused of "attacking personal rights" because of the "Paradise Papers" articles that focused on offshore accounts in Malta reportedly belonging to Çalık Holding executives.
Çalık Holding is requesting compensation of 10.000 Turkish Liras for "defamation" and next hearing will be on January 30, 2020.
During January 30 hearing, the court requested a copy of another criminal case file against Ünker on her Paradise Papers reporting which was dropped due to statute of limitations (see below) and adjourned the hearing until April 28.
Due to suspension of all judicial proceedings in March and April because of COVID-19 pandemic, the April 28 hearing is postponed to September 10.
The Paradise Papers investigation in Turkey also examined Turkish Minister of Economics Berat Albayrak, who is also President Erdoğan's son-in-law, and Prime Minister Binali Yıldırım, and his sons' off-shore accounts in Malta. Yıldırım filed a separate defamation case against Ünker and the chair of the Cumhuriyet Foundation Orhan Erinç, asking 500.000 Turkish lira as compensation.
During the hearing of the case, filed by Yıldırım and his sons, on September 6 the court recalled that there are criminal cases against journalists Ünker and Erinç about the Paradise Papers and ruled to adjourn the hearing until the finalization of those trials. Later, Yıldırım family filed another complaint against Ülker, this time on the charge of "insulting state's officer" based on the same articles. The case was examined separately and Ünker was sentenced to a monetary fine of 8.660 Turkish lira and to one year one month and 15 days in prison.
During the hearing on November 22, 2018, in the case filed by Albayrak brothers, Ünker's lawyer asked the merger of cases against the journalist on the basis that the ground for action is based on the same series of articles. The court ruled to take defense request into consideration and adjourned the next hearing to February 21, 2019.
On February 21-hearing, Ünker's lawyers requested the case to be dropped due to the failure of filing a lawsuit against the article within the four-month limit based on Turkish Press Law. During the next hearing on March 28, the case against Ünker was dropped due to the statute of limitations.
Several other news outlets and journalists are subject to defamation cases on the same articles published on their own platforms.