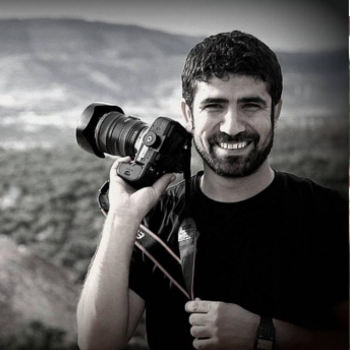 Defendants: Sertaç Kayar
Media Outlet and Position: Freelance Photojournalist
Accusations: Founding and leading a terrorist organization
Possible Sentences: 15 up to 22,5 years
Court: Diyarbakır 10. High Criminal Court
Case Background: 
Sertaç Kayar, a freelance photojournalist, is being prosecuted on the charges of "founding and leading a terrorist organization" over his journalistic work. The indictment cited photos taken by him on assignment between the years of 2011 and 2012, also his own news reports concerning government press statements, public demonstrations and key events as criminal evidence. An investigation was filed six years later.
He was briefly detained on December 19, 2017, after a police raid on his house in Diyarbakır.
Kayar was cited as an "activist", not a journalist in the indictment even though he holds a professional camera in his hand in all photos cited as criminal evidence in the indictment. Also, his participation in an assignment for the Democratic Society Congress (DTK), an umbrella organization for civil society organizations of the Kurdish liberation movement in Turkey, was cited as evidence of a crime.
He was initially subject to three separate cases due to his journalistic work. Kayar was acquitted in two other cases respectively on charges of "targeting those who participated in anti-terror military operations" on September 26, 2018, and of "terrorist propaganda" on January 5, 2019.
The third hearing in the case took place on April 5, 2019. The court ruled to wait to hear witness testimony, adjourned the hearing until June 26.
During hearing on June 26, the court requested the Chief Public Officer the latest research reports on Democratic Society Congress (DTK) in order to find further information on Kayar's participation or involvement with the DTK.
On December 4 hearing, the court ruled to wait until a response from Diyarbakır's Chief prosecutor received on the latest research reports about Kayar's involvement with the DTK, adjourned the hearing until April 1.