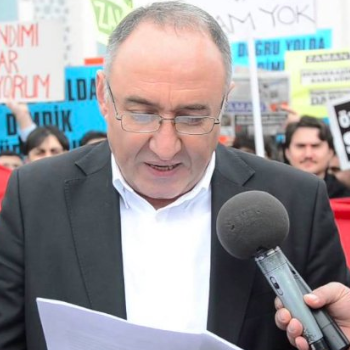 Defendants: Şirin Kabakçı
Media Outlet and Position: Zaman newspaper – Correspondent
Accusations: Membership of a terrorist organization
Possible sentence: –
Court: İstanbul 35. High Criminal Court
Case Background: 
Şirin Kabakçı, Konya correspondent for now-closed Zaman newspaper, was arrested on May 1, 2017, on charges of "membership of a terrorist organization". He is accused of alleged links to the Gülen movement, the organization that the Turkish government accuses of orchestrating the 2016 coup attempt.
Kabakçı was held in pretrial detention for almost 20 months in Konya prison and was brought before a court for the first time on June 19. He was connected to the courtroom from prison via SEGBİS – Turkey's judicial video-conferencing system.
During the hearing in June, Kabakçı's phone calls to others, who are also being prosecuted on similar charges, his social security record proving that he was employed at Zaman, his trips abroad and his participation in protests against the imprisonment of Zaman journalists and executives were presented as criminal evidence.
He is also accused of using "ByLock", an encrypted-communications application said to have been used by Gülen's followers. He denied all allegations.
During the hearing on October 9, the court asked for more information to be collected on the informant's identity who wrote a letter to the police, accusing the journalist. Kabakçı was released on December 26, 2018, following the court taking into consideration the time he spent in detention.
The court ordered to send the case file over at the hearing on March 28, 2019, in order to get prosecutor's final opinion. The case was adjourned until July 2.
During the July 2 hearing, Kabakçı requested additional time to listen to the witness statement against him and to prepare a defense in response. The court adjourned the next hearing until October 15 for evaluation of the witness testimony.
During the 7. hearing on October 15, 2019, witness testimony was submitted to the court. The witness stated that he knew Kabakçı from now-closed Zaman newspaper, but did not know about Kabakçı's alleged links to the Gülen movement. The court ruled to send the case files to the prosecutor for a final opinion and adjourned the case until December 3, 2019.
During the hearing on December 3, the prosecutor presented his final opinion and requested Kabakçı to be sentenced on the charges of "membership of a terrorist organization". Kabakçı's lawyer requested additional time to prepare the defense statement. The court granted the additional time and adjourned the hearing until February 20, 2020.