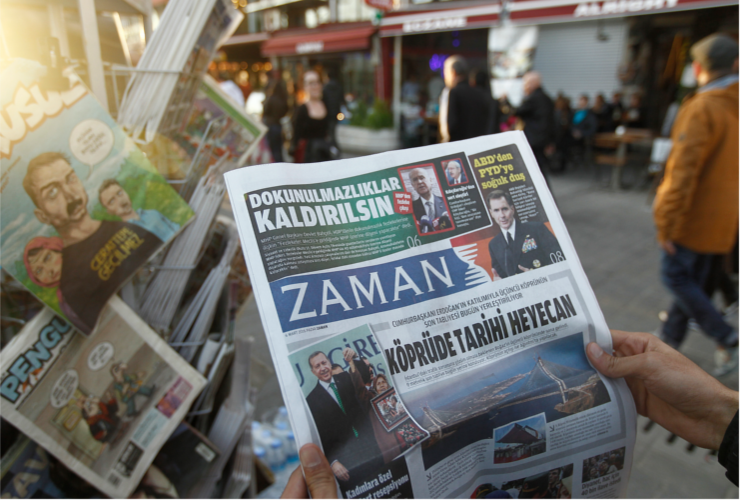 Defendants:
Şahin Alpay, Ali Bulaç, Mümtazer Türköne, Ahmet Turan Alkan, Nuriye Akman, Ahmet Metin Sekizkardeş, Alaattin Güner, Cuma Kaya, Faruk Akkan, Hakan Taşdelen, Hüseyin Turan, İbrahim Karayeğen, Mehmet Özdemir, Murat Avcıoğlu, Mustafa Ünal, Hüseyin Belli, Onur Kutlu, İsmail Küçük,  Lale Sarıibrahimoğlu, İhsan Dağı, Orhan Kemal Cengiz, Ali Hüseyin Çelebi, Osman Nuri Arslan, Sedat Yetişkin, Şeref Yılmaz, Yüksel Durgut, Zafer Özsoy, Adil Gülçek, Süleyman Sargın, Ahmet İrem, Osman Nuri Öztürk
Media Outlet: Now-closed Zaman Newspaper
Status: 18 defendants imprisoned (names in bold)
Facility: Various prisons
Accusations: Attempt to overthrow Constitutional order and membership in a terrorist organisation
Charges: 7,5 up to 15 years
Court: İstanbul 13. High Criminal Court
Case Background: 
Journalists and media workers under Zaman Media Group began to be arrested following the July 15 coup attempt in 2016 as part of the government purge of individuals accused of spreading propaganda for the outlawed movement headed by U.S.-based cleric Fethullah Gülen, who Turkey's government accuses of having established a "parallel state structure" and who it blames for the failed July 15, 2016 coup attempt.
The indictment accepted on April 27, 2017 alleges that Zaman, which was founded in 1986, was fully taken over by the Gülen movement the following year and was able to continue operating only due to the group's financial support. It also accuses the group of "using the media as a weapon" to "manipulate society", and alleges that Zaman employed "columnists with ideas that could have supported the organization". The newspaper was shuttered in May 2016 after it was seized by the state.
18 of 31 defendants in the case have been imprisoned since July 2016 in various times, still being kept in jail pending trial. On March 20, European Court of Human Rights (ECtHR) ruled that the rights to liberty and security of Şahin Alpay have been violated due to his pre-trial detention over 550 days in prison. Alpay was released by a Constitutional Court ruling on March 16, four days before the ECtHR ruled to uphold his case.
To find out more about the individual jailed journalists in this case, please go to "Cases" page.
Photo caption: EPA/DENIZ TOPRAK