The International Press Institute (IPI) today remembered one of Turkey's most respected journalists, Abdi İpekçi, on the 41st anniversary of his killing, commemorating both his journalism and his work for reconciliation between Turkey's rival political groups.
On February 1, 1979, İpekçi, then editor-in-chief of the daily Milliyet, was shot dead outside his home in Istanbul. One of his assassins Mehmet Ali Ağca was caught but escaped jail before he could be convicted.  The following year Ağca resurfaced in Italy where he attempted to assassinate Pope John Paul II in May 1981. Meanwhile the mastermind and accomplices remained free.
İpekçi pioneered the advance of investigative journalism in Turkey and dedicated his professional life to building bridges between Turkish and Greek journalists. He campaigned ceaselessly for national unity and reconciliation, and against violence and terrorism. He was planning an international conference on political extremism and the media in Turkey when he was killed.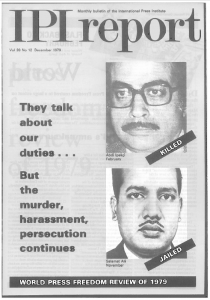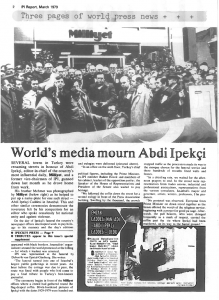 İpekçi was also an active member of IPI, elected to the IPI Executive Board in 1964 and becoming vice-chair in 1971. He was honoured as an IPI World Press Freedom Hero in 2000 in recognition of his efforts to protect democratic rights and freedoms.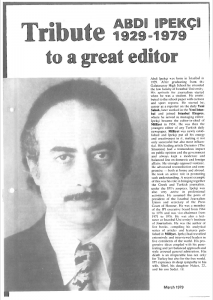 The IPI archive reveals a series of articles and reports dedicated to İpekçi since his murder in 1979. In March 1979, IPI published a tribute to Abdi İpekçi with numerous dedications from editors and journalists and from his friends in IPI around the world. The then-prime minister of Turkey, Bülent Ecevit, thanked IPI for the commemorative issue, which contained the following tribute:                                 "In the eyes of his colleagues Abdi İpekçi was a symbol of responsible journalism. In the eyes of the Turkish people he was a staunch defender of democracy and a relentless campaigner for peace at home and in the world […] It is gratifying to observe that IPI, of which I had the honour of being a member during my years as a journalist, pays due homage to him." 
Ağca, was eventually deported to Turkey from Italy in 2000 after serving 19 years for the assassination attempt on John Paul II. In 2010, he was freed from prison after serving a reduced sentence of ten years for İpekçi's murder.
"It is our great regret that those responsible for the murder of IPI World Press Freedom Hero Abdi İpekçi were never held accountable", said IPI Turkey Programme Manager Oliver Money-Kyrle. "IPI continues to seek justice for Abdi İpekçi along with fellow murdered journalists including Uğur Mumcu and Hrant Dink."