Columbia Global Centers | Istanbul and the International Press Institute (IPI) invite you to join our masterclass for freelance journalists from Turkey.
Through this 4-week course the participants will learn the art of pitching their story ideas to international media outlets. The participants will meet leading journalists and editors, get feedback on their ideas and come out with an action plan to break into their dream publication!
The masterclass will comprise of one 90-minute workshop per week at the Columbia Global Centers | Istanbul in-person between November 1 – December 5.
Elif Ince, freelance journalist and an alum of Columbia Journalism School, will guide and coordinate the course, moderating the sessions and providing insights.
Participants will gain firsthand insight from experienced reporters and editors on spotting story ideas and finding angles that appeal to international media outlets, crafting pitches that captivate editors and selecting the perfect publication.
The ultimate goal? To witness ideas come to life as published articles and reach a global audience!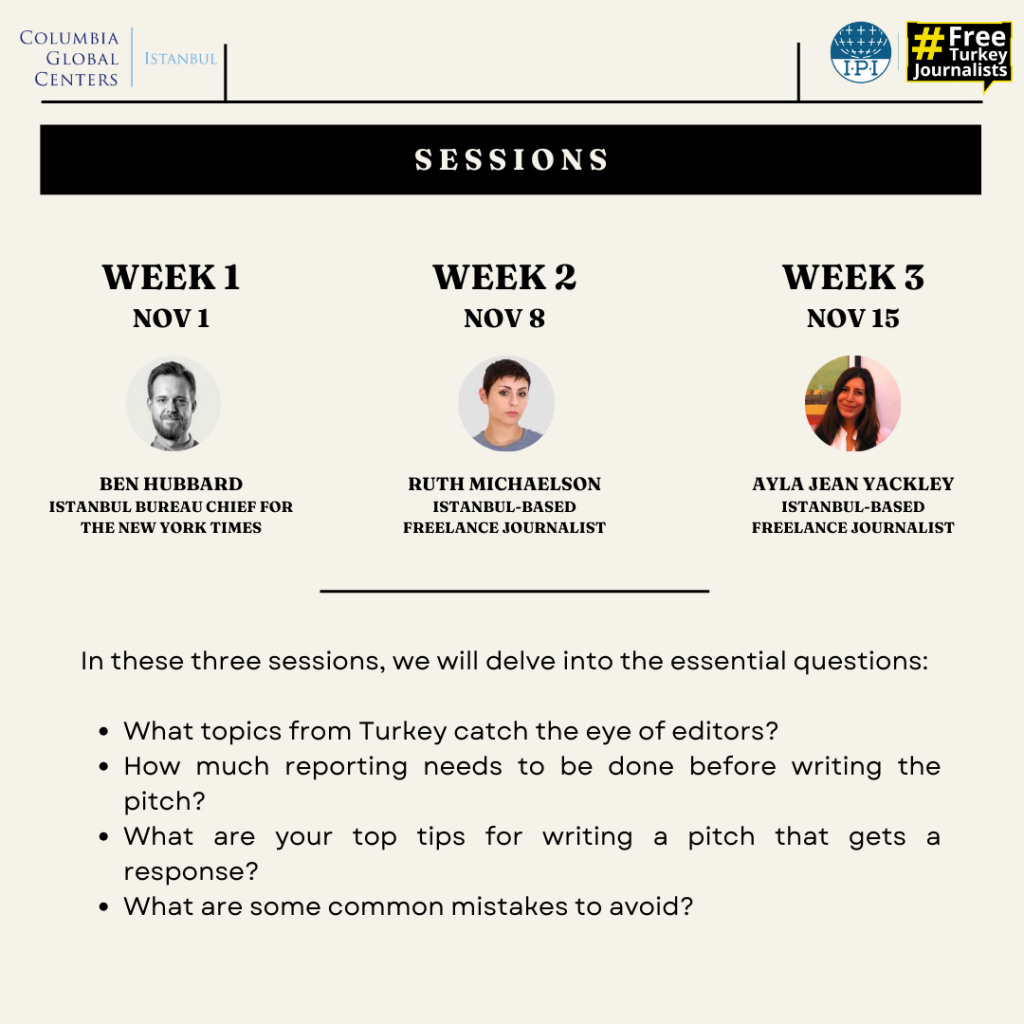 Three Q&A Sessions with Reporters
The first three meetings will be Q&As sessions with reporters who cover Turkey for renowned international publications including seasoned freelancers who know the ins and outs of the pitching process.
On November 1, we will speak with Ben Hubbard, the Istanbul bureau chief for The New York Times and a reporter who has over a decade of experience in the Middle East.
On November 8, we will meet Ruth Michaelson, an experienced freelance journalist covering Turkey and the Middle East regularly for The Guardian.
On November 15, we will be joined by Ayla Jean Yackley, a freelance reporter who has nearly two decades of experience covering Turkey with bylines in the Financial Times and The New Yorker among others.
In these three sessions, we will delve into the essential questions: What topics from Turkey catch the eye of editors? How much reporting needs to be done before writing the pitch? What are your top tips for writing a pitch that gets a response? What are some common mistakes to avoid?
Conversations will also include practical concerns like the ideal length for a pitch and how to follow-up with editors when you don't hear back.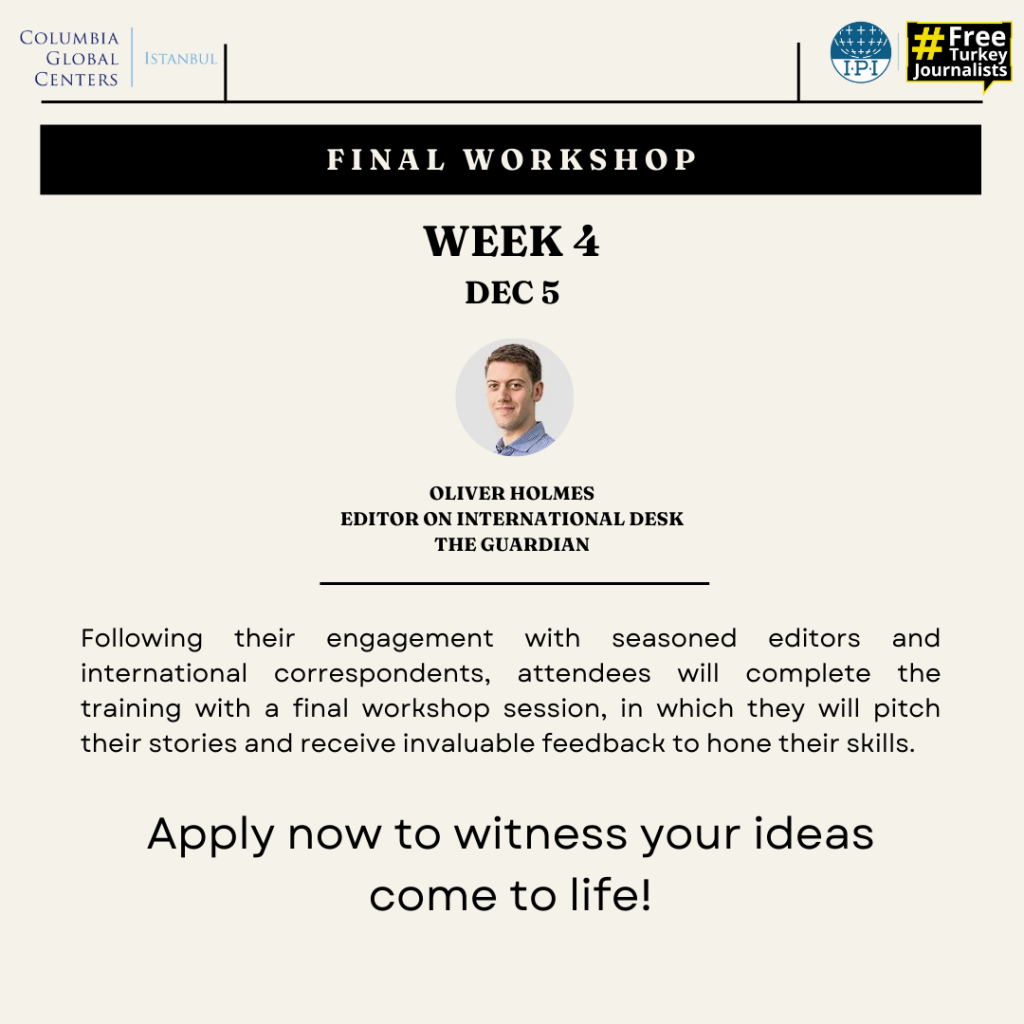 The Final Workshop
The masterclass will conclude with a final workshop led by Oliver Holmes, a Guardian journalist and editor on the international desk. Holmes will join the session online, listen to the pitches written by participants and give feedback on how to fine-tune their ideas or writing.
---
Join us for this empowering masterclass that will set our participants on a path to journalistic success.
The registration fee for the masterclass is 500 TL to be paid upon confirmation.
Speaker Bios:
MODERATOR:
Elif İnce is an Istanbul-based journalist who has contributed to The Guardian, The New York Times, Deutsche Welle and NBC among other news outlets. She is a graduate of Columbia's Journalism School and was previously a reporter for Radikal where she received awards for her reporting on Istanbul's urban transformation. She has a keen interest in data-driven journalism and has authored guides for journalists on freedom of information requests and online research tools.
INSTRUCTORS:
Ben Hubbard is the Istanbul bureau chief for The New York Times and has more than a decade of experience in the Middle East. Fluent in Arabic, he has covered a wide range of topics, including coups, civil wars, protests, jihadist groups, and even culinary culture like rotten fish as cuisine. His extensive reporting spans over a dozen countries, including Syria, Iraq, Lebanon, Saudi Arabia, Turkey, Egypt, and Yemen. Additionally, he's the author of "MBS: The Rise to Power of Mohammed bin Salman."
Ruth Michaelson is a journalist based in Istanbul, where she focuses her reporting on politics, environmental issues, technology, and transnational injustices. Her reporting primarily centers around Turkey and the broader Middle East, with special attention to North Africa and the Gulf region. In addition to her work in The Guardian, she has a diverse portfolio that includes contributions to publications such as Bloomberg Businessweek, TIME, the Columbia Journalism Review, Coda Story, Smithsonian Magazine, the New Statesman, Monocle, and various other well-regarded magazines and websites.
Ayla Jean Yackley is a freelance journalist based in Istanbul, where she covers politics, the economy and culture. Her work has appeared in the Financial Times, The New Yorker, The Atlantic, The Economist, Foreign Affairs, The Art Newspaper and other publications. Her reporting has also taken her to Afghanistan, Iraq, Russia, Armenia, Azerbaijan and Syria. She previously worked as a correspondent for Bloomberg News and Reuters.
Oliver Holmes, a journalist with The Guardian, has reported extensively across the Middle East and Asia. His previous role as Jerusalem correspondent reflects his in-depth understanding of the region. Currently, he contributes to The Guardian's international desk, offering a wealth of experience in reporting from Asia, Europe, and the Middle East.