"Who is Turkey's foremost journalist?" Although we don't have a common answer to this question, when we encounter it, several names quickly spring to mind, shaped by our considerations across diverse criteria. Similarly, when posed with the inquiry about the preeminent journalist in utilizing social media or maintaining an influential YouTube channel, we may come up with fewer responses, but responses nevertheless flow in.
On the other hand, when we ask the question "Who is your favorite podcast journalist?", we find ourselves struggling to think of a name. Even asking whether such a definition exists is a question that needs to be answered – and the reason for this article's existence. In this article, I will try to find this answer and make some situational assessments regarding this problem and the lack of ownership of the podcast format.
In a recent Statista study analyzing February 2023 data on individuals accessing news podcasts across selected countries globally, Turkey is conspicuously absent from the list. Let's investigate the cause-and-effect factors behind this exclusion.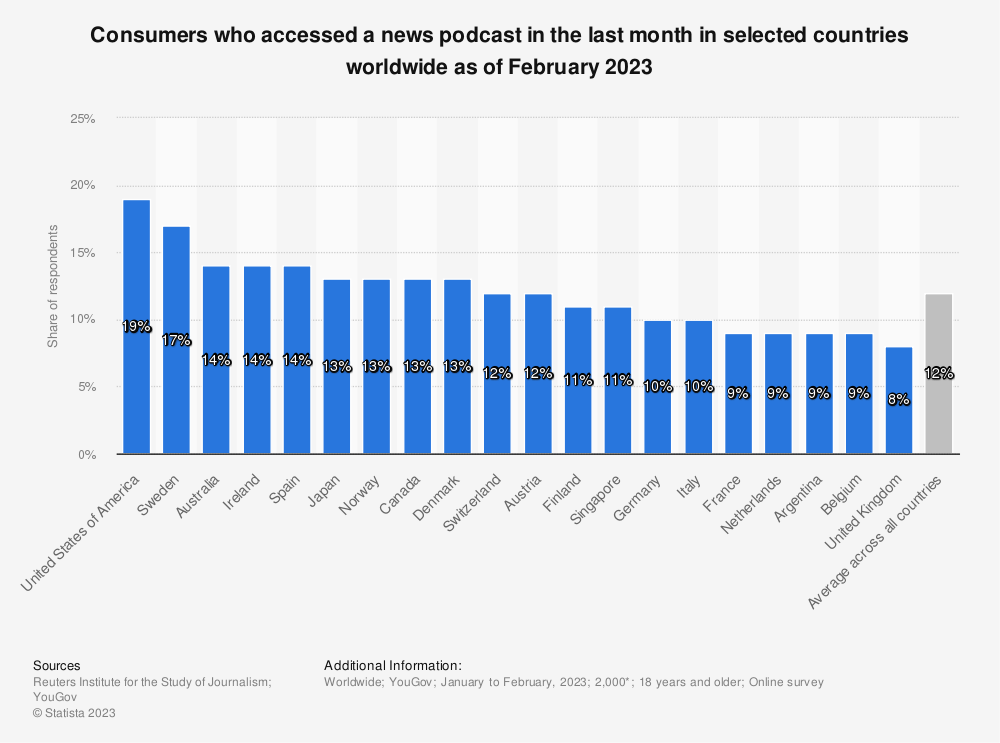 The Challenge of Financial Sustainability in the Podcast Ecosystem
In Turkey, podcast journalism has not gained recognition as a specialized field, and there is currently no demand for journalists possessing these skills within the staffing of newsrooms. As an instructor organizing 'Podcast Workshops for Journalists' since 2018, collaborating with 30 different institutions, including the Journalists' Union of Turkey (TGS), finding solutions to this issue is a recurring focus for me. Following the workshops we've conducted with around 1,500 journalists across 14 cities in the past six years, it's remarkable that only a handful of journalists have actively positioned themselves or are attempting to position themselves as 'Podcaster/Journalist' in the industry.
Although journalists in Turkey are interested in the field, the lack of financial sustainability is the biggest obstacle. We should also note that irregular fund distribution and the quality of content that is not controlled by the funder also have negative effects. Maintaining an audience in the traditional media while venturing into a new format poses a significant difficulty for independent journalists at a certain stage in their career. Integrating this audience into their own news network and flow adds an additional layer of complexity.
Although the close-to-zero production costs in comparison to video journalism might suggest that journalists can establish themselves by creating podcast content, this belief lacks sufficient reinforcement. A significant factor contributing to this is the limited proficiency in foreign languages, particularly English, resulting in a challenge to keep up with global news podcasts, especially those from the U.S. and the UK.
These reasons encompass the belief that podcasting cannot seamlessly align with conventional media habits, the perception that its audience is unprepared for such a shift, and the notion that there is an insufficient number of podcast listeners in Turkey.
A Glocal Podcast Journalist: Beril Eski
Beril Eski, a journalist with experience in various roles, has created content for widely listened-to podcast programs in both America and Turkey. She stands among the select few who have first-hand knowledge of the podcast production processes in both countries. In our previous discussions, Eski highlighted the most significant disparities she encountered while producing podcast content in the two countries, emphasizing distinctions in the level of production support provided by teams to journalists, the legal assistance available, and the editorial conversations and discussions preceding content publication.
A Platform in Turkey Where Unsaid Matters Find a Voice: Podcasts
Podcast journalism exhibits significant growth potential in Turkey. To effectively tap into this potential, journalists should focus on crafting content that enables listeners to vividly visualize the podcast's narrative. This approach not only enhances the audience's engagement but also prompts journalists to employ diverse reporting reflexes.
Legal regulations concerning the podcast content we generate are currently not highly stringent in Turkey. Nevertheless, broadcasting institutions must remain vigilant and capable of making decisions during crises (see NYT – Caliphate Podcast case). The podcast format, not being widely subjected to censorship or ban mechanisms, maintains an alternative stance. This unique position not only extends to journalism but also allows for the open discussion of taboo topics, including sexuality, in Turkey.
In Turkey, some media outlets engage in podcast journalism, often adopting a daily newsletter format. However, a notable absence exists in the realm of dedicated podcast series for investigative journalism. While outlets like Kısa Dalga aim to fill this gap, and certain non-journalist broadcasters are making attempts, there is still a lack of a well-established approach in this domain.
In delivering journalistic content in Turkey, our aesthetic presentation is notably lacking, trailing far behind global standards.
Podcasting serves as a platform allowing journalists and producers to meld their tastes and aesthetic sensibilities. In Turkey, we've observed instances where poorly chosen music in a well-prepared podcast interview can adversely impact the listening experience and overall quality of the content series.
Similarly, a list of hindrances to the progress of podcast journalism in Turkey can include factors like the absence of music and inadequately prepared podcast cover images. In my view, the most crucial elements influencing the consumption of podcast content are the cover image and the name of the podcast program slated for broadcast.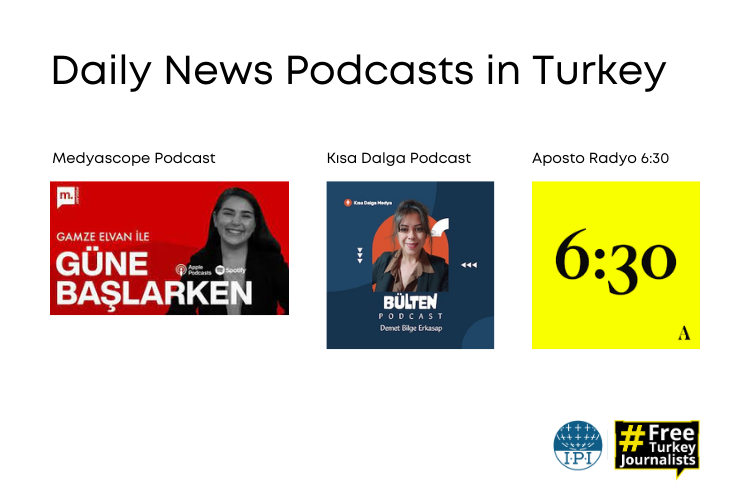 Presently in Turkey, news podcast broadcasting predominantly adopts the format of daily bulletins, a structure swiftly embraced owing to established habits and content compilation expertise inherited from the radio broadcasting era. This format has found acceptance among listeners. The three news centers at the forefront of producing the most substantial content in this realm are Medyascope, Kısa Dalga, and Aposto. 
At present, Medyascope, a leading digital news outlet in Turkey, stands out as the best example in the field, showcasing excellence in podcast production, technical infrastructure, and personnel investments. Boasting a vast archive of 6,000 podcast episodes and daily morning news bulletins, Medyascope statistically fulfills a substantial portion of the daily news requirements within the podcast ecosystem. Nevertheless, there is currently an absence of special podcast series featuring content based on investigative journalism.
Kısa Dalga, founded by journalist Kemal Göktaş, initially dedicated solely to news podcasts, has evolved into both an educational hub and a revenue center for the growth of podcast journalism in Turkey. Kısa Dalga stands as a pioneering example, allowing independent journalists to secure financial support through their podcast content production. Under the editorial guidance of journalist Demet Bilge Erkasap, Kısa Dalga consistently delivers daily podcast newsletters, with a total of 1,817 podcast news programs published since its inception.
In order to advocate for journalistic standards in podcast journalism, enhance income models for journalists, and replicate the global interest this format has garnered in Turkey, the essential first step is to engage with podcasts actively. Our primary requirement should involve listening to and scrutinizing examples from the thriving podcast scenes of America and England, where they amass millions of listeners and collaborate with numerous editors, sound designers, lawyers, and journalists to generate income. Without genuinely embracing the essence of podcasting, if we merely reduce the matter to "royalty income," as we presently do, we risk producing podcast content that lacks appeal even to ourselves.
I hope that 2024 will mark the proliferation of the podcast format, particularly in the field of investigative journalism, with collaborations between local and global news organizations. I also hope that this will signify a shift where journalists recognize this format as not only viable but also ripe with potential for meaningful work.
You can listen to episodes of IPI's "Freedom Dialogues: Turkey" podcast series here.