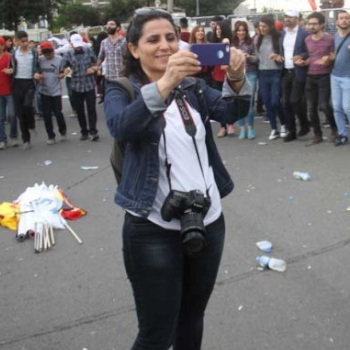 Defendants: Kibriye Evren
Media Outlet and Position: Jinha News Agency – Journalist
Status: Imprisoned
Facility: Diyarbakır E-type closed prison
Accusations: Membership of a terrorist organization; Making terrorist propaganda
Possible sentence: up to 22 years
Court: Diyarbakır 5. High Criminal Court
Case Background:
Kibriye Evren, a reporter of Jinha, was arrested on October 11, 2018 on the charges of "membership in a terrorist organization" and "terrorist propaganda".  The police detained 23 people, including Kurdish politicians along with Evren on October 9, 2018 in simultaneous operations. While Evren and 2 others were arrested and held on charges of "membership of a terrorist organization," after two days in pretrial detention the others were released.
The indictment cited Evren's trips abroad, social media posts and her presence at the Kurdish women groups such as Free Women's Congress (Kongreya Jinên Azad) as evidence. Anonymous witness statements were also included in the indictment.
Evren's tweets such as "Jinha cannot be silenced" and a re-post of the tweet posted by prominent journalist Hasan Cemal about a bombing in Turkey, which said, "Bombs exploded, many young people died," were among those which were cited as criminal evidence. Evren is also being accused of being involved with the outlawed group Kurdistan Communities Union (KCK) and representing KCK via the press.
Jinha was the first Women News Agency in Turkey which was shut down by decree during the State of Emergency that was lifted in July 2018.
Her first hearing took place on December 6, 2018, during which prosecutors requested 22 years of prison time.  The case was adjourned until January 10, 2019, with Evren remaining in custody.
During the second date on January 10, Evren attended the hearing via judicial video-conference system (SEGBIS), rejecting all charges. Court adjourned the hearing till April 16.
During the hearing on April 16, the court ruled the prosecutor's final opinion to be delivered to Evren in person in its interim decision, ruling the continuation of Evren's detention. During the hearing on May 7, the court requested a copy of another case file from an Ankara court where Evren appears as a defendant, asked additional information on accusations.
During the hearing on 18 July, the prosecution asked once again for the continuation of Evren's detention, which the court granted. The case was adjourned until September 24, 2019.
On September 24, the court inquired about Evren's other cases in courts in the cities Ankara, Şanlıurfa and Mersin. The court adjourned the hearing until November 12 and ruled for the continuation of Evren's detention.