The International Press Institute (IPI) in collaboration with the Media and Law Studies Association (MLSA), today published the fourth trial monitoring report on freedom of expression cases in Turkey.
This report is part of a programme of monitoring that started in June 2018 and confirms findings of the earlier reports, published in September, July and January 2019, that the country's criminal justice system is failing its people and specifically its journalists by violating fundamental rights to liberty, freedom of expression and a fair trial.
This current report covers 69 hearings (61 cases) involving 342 defendants of which 134 were journalists that took place between July 27 and October 31, 2019.

Key findings include:
57 percent of cases involved terrorism-related offences, primarily conducting propaganda for a terrorist organisation (25 of 61 cases) or being a member of a terrorist organisation (21 out of 61 cases). Other common charges included defamation-related offences such as insulting the president and humiliation of the Turkish nation.
Pre-trial detention:
Of the 134 journalists tried, seven of them were held in pre-trial detention, all of whom had been held for over one year.

Quality of evidence:
In 73 percent of cases where journalists face terrorism related crimes, the evidence used consisted primarily of journalistic work including articles and photos published, contacts with sources and social media posts.
As highlighted in the report 'Turkey's Journalists in the Dock: Judicial Silencing of the Fourth Estate' based on the findings of the IPI-led press freedom mission to Turkey in September 2019, the loosely drafted anti-terrorism legislation enables the courts to conflate journalistic practice with terrorism propaganda and label journalists who have been engaged by a media organization perceived as politically aligned with the Gülen movement, or that is pro-Kurdish, as proof of membership of a terrorist organisation.
Holding journalists in detention based on their journalistic output breaches the fundamental rights to freedom of expression, contravenes established jurisprudence of the European Court of Human Rights and rulings handed down by Turkey's Constitutional Court.

The right to a lawful judge:
The report showed that in 26 percent of cases (16 of 61) the presiding judge had been replaced during the proceedings. This is consistent with previous reports and underlines concerns about the arbitrary removal of judges.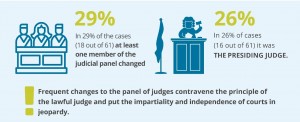 "Turkey's prosecutors continue to conflate journalism for terrorism propaganda or evidence of affiliation to terrorist groups. As a consequence, hundreds of dedicated journalists are losing years of their lives fighting spurious charges while the public is denied access to independent news", Oliver Money-Kyrle, IPI Turkey programme manager, said.
The trial monitoring programme is supported by the European Union through the Turkey Civil Society Support Programme that lasts until April 2020. The trial monitoring reports are written by IPI, a global network of editors, media executives and leading journalists, based on data collected by MLSA.