Listen to the podcast episode here: 
Imagine that the Google News Initiative decides to fund InfoWars, the far-right American conspiracy theory and fake news website.
Imagine that Google declines to blacklist InfoWars from its ad networks or algorithmically downgrade it as a reliable news source in its search engine.
In fact, imagine that you search for "Jew," "LGBTI+" or the full name of a reputable journalist and Google ranks blatant hate speech as the top result.
Can you imagine these things happening in the English-language news ecosystem?
You probably can't. However, this is what's happening in Turkey: Google is accused of silently fueling partisan media outlets here, many of which produce disinformation and propaganda, despite warnings from fragile communities.
Before getting into the details, let me first provide an example of how Google's Turkish search results are strikingly different than those in English.
I searched for "Jew" on Google Turkey on May 31 and the top news result was this op-ed article published by the pro-government daily Yeni Safak.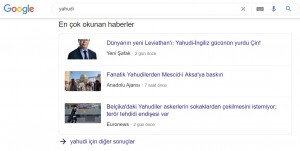 The columnist Yusuf Kaplan's piece reads like a definition of anti-semitism and hate speech. According to his twisted logic and poisonous narrative, "nothing is like what it seems" as "the Jews control the U.S., the German deep state, the Japanese deep state and the Russian deep state."
He continues: "The global Jewish power" also controls India and is now moving into China to "enslave" people around the world with their "evil mind." Echoing the Turkish government's "neo-Ottomanist" foreign policy, Kaplan proposes that only Turkey can stop them by "resurrecting the Ottoman spirit" as "Islam's road will be wide open in the post-corona world."
So this what people got who googled "Jew" in Turkey recently. This piece was not simply published by a rather small pro-government newspaper. It was given a much bigger platform to reach millions of people via Google.
Here is Turkey's Chief Rabbinate Foundation / Turkish Jewish Community's general view regarding hate speech:
"There were very dark times throughout history, when hate speech was not limited with mere words, but moved beyond, therefore causing a tragic and inhumane period. As a community, we are constantly fighting against hate speech, and we continue to stress the importance of having an effective law on hate speech on the web and social media where this become more than an issue. Therefore, we believe that it is imperative to intervene by law in order to control social media to better filter hate speech, as well as to deter and prevent writers. Our views embrace the entire internet environment that does not take measures against hate speech, based on various interest groups."
Google reaffirms commitment on tackling misinformation
This is by far the only instance of Google's Turkish search engine returning hate-filled articles as their top results. As part of my research into the way that tech companies do business in Turkey, I've collected a number of such examples, several of which are described in this text. When preparing this article, I approached Google with these examples and requested a comment.
Here is the full text of a response by a Google Turkey spokesperson, sent to me on July 7:
"We take our commitment to tackling misinformation incredibly seriously in all parts of the world. Our content policies play an important role in ensuring a positive experience for both our users and publishing partners. On our news surfaces, we do not allow content that promotes violence or harassment against an individual or group based on ethnic origin, religion, disability, gender, age, veteran status, sexual orientation, or gender identity. When we find content that violates these content policies, we may remove it. In cases of repeated or egregious violations, a site may be no longer eligible to appear on news surfaces.
We regularly review how we rank websites and are transparent about changes we make. You can find more information on how search works here. We go to great lengths to build our products and enforce our policies in ways that don't take political leanings into account. Distorting results for political purposes would harm our business and go against our mission of providing helpful content to all of our users. If you think some news sources or content don't meet the Google News requirements or policies you can report them here."
Google's response omitted any mention of the specific examples that I provided. But it also fell short of explaining why, despite "repeated or "egregious" violations of their own content rules, many Turkish websites not only "appear on news surfaces," but also dominate them.
For instance, following up on the example above, Yeni Safak's poor record as a trusted content provider should not be a surprise to Google.
First of all, this was not the outlet's first-ever display of anti-semitism. The same columnist had written in the same newspaper back in 2007 that "Jews cannot be [our] friends" because "they hate Muslims and Turks."
Secondly, Google has been made aware of these issues before. In recent years, I myself had reported various breaches by dozens of Turkish media outlets of Google's policies, including disinformation, hate speech, copyright infringements, and attempts to game the Google algorithm. It didn't change anything.
According to the "Search Quality Evaluator Guidelines", Google's own criteria for high-quality content include expertise, authoritativeness, trustworthiness and positive reputation. The same guide says that the "lowest" pages are those that potentially spread hate and misinform, deceive or harm the users.
But it's not only the company's search engine that has such policies. The Google Ads platform states in its Publisher Policies that they "do not allow dangerous or derogatory content" including hate speech and discrimination.
But as I will try to show in this article, many Turkish news outlets that Google currently features on top of search results blatantly violate all these criteria but the company has yet to act.
I managed Turkey's largest news website and quit in disgust
Before going further with more examples about these violations, let me offer a personal disclosure and some background on Turkey's media.
For 15 years, I worked for Hurriyet, Turkey's most influential newspaper, in various positions including managing editor. A few months after the newspaper was sold to the Demiroren Media group, I resigned because I was convinced that it was no longer possible to do independent journalism there under the new ownership.
According to Reporters' Without Borders, the Demiroren Family "openly supports" President Erdogan's ruling Justice and Development Party (AKP). From being a fairly balanced newspaper under its former owner, Hurriyet quickly turned under the Demirorens something little more than a propaganda outlet. It went as far as calling the main opposition Republican People's Party (CHP) candidate a "liar" days before the June 2018 presidential election, which was ultimately won by Erdogan.
The newspaper's website even published fake news, making up quotes, as we saw ahead of the March 2019 local elections when it manipulated the words of the co-chair of the Kurdish problem-focused Peoples' Democratic Party (HDP). Still, the opposition managed to win the mayoral race in most of the largest cities of Turkey.
Other media outlets that are owned by the Demirorens are not different. CNN Turk, for instance, mutes opposition and even attempts to ridicule their politicians, while amplifying Erdogan's voice. This partisan editorial policy paved the way to the main opposition party's recent decision to boycott the TV channel.
Under these circumstances, I protested and resigned from Hurriyet, Demiroren's new "media flagship", last year. But enough with my personal story. Turkey's media problem is much bigger than me – and even the Demirorens themselves.
As the International Press Institute observed last year, "the Turkish government has – through the forced closure of over 170 media outlets and printing houses and a combination of market distortion, economic pressure and friendly media ownership – brought an estimated 95 percent of the country's media under its influence."
A main opposition MP stormed out of a TV studio a couple of months ago, complaining about the news network's decision to interrupt his ongoing live interview to connect to President Erdogan's speech that had just begun. "Erdogan is speaking on 35 TV channels right now… It's like [the Soviet Union's] Pravda. All channels must show him. Don't be so scared of him!" CHP MP Muharrem Ince reacted.
What was described by Ince as Turkey's "monophonic media establishment" leaves little space to critical voices apart from a few smaller TV stations and newspapers. Digital media, with its harder-to-censor and easier-to-maintain nature, is now the primary domain for Turkey's consumers to receive higher-quality news and critical commentary.
Google is top source for citizens and websites in Turkey
Here comes now the key role of U.S.-based digital platforms, led by Google. A Reuters Institute report defines these platforms as "an important centre of opposition media in Turkey, with 83% of our urban sample saying they have consumed news via offsite platforms."
As the former digital executive of Turkey's most popular news portal, I can assure you that a vast majority of readers come to these websites through Google.
Compared to other platforms like Facebook, Google has been perceived as more active in fighting fake news and supporting quality journalism.
This is the positive picture that I see especially when I check Google's English-language result pages or read the news about the company's rapid enforcement of its policies especially in the U.S. and the EU.
For instance, countless English-language websites have been banned from Google's search engine or Google Ads platform due to various reasons like racist content or manipulating the algorithm with keyword stuffing and other means.
Google's sanctions expand from search to other products and services like Android and YouTube as we observe in its efforts to fight misinformation around the COVID-19 pandemic during which outlets like Alex Jones' InfoWars were sanctioned severely —and rightfully.
While fighting misinformation globally, Google also supports local journalism outlets – especially smaller ones – directly with tools like the GNI Innovation Fund.
But what does this same company do in Turkey, a country whose population is much more susceptible to misinformation due to the dominance of an increasingly authoritarian government over the whole media landscape?
Google selects partisan corporation as the only Turkish recipient of innovation fund
The answer is that Google has selected the tech department of the Demiroren Media Group as the only Turkish applicant to be funded by the GNI.
"This funding will enable our partners to develop sustainable business models by diversifying revenue streams and/or increasing audience engagement," GNI said in February 2020, without disclosing the amount of the fund slated for the Demiroren group.
In response, the Journalists' Union of Turkey (TGS) published an open letter to Richard Gingras, Vice President of News at Google, noting that it was "saddened" by GNI's decision.
After all, Demiroren's flagship newspaper, Hurriyet, had fired 45 of its employees, including several senior journalists, in October 2019. All of these employees were critical journalists and union members. Violating the law, the Demirorens did not even pay their severance fees and the case is now proceeding in court.
"We would like to see Google supporting independent journalism, not a partisan media apparatus, in any country in the world," the TGS said in the open letter.
Beside questioning the appalling GNI decision, which actively extended financial aid to a government mouthpiece in Turkey, Google's current policy has paved way for a handful of partisan outlets to dominate the Turkish search results and Google News app.
Google fails to impose any sanction on Turkey's top sources of disinformation
Starting this March, I began monitoring crucial "news" keywords like "coronavirus" and "breaking news", which both bring millions of Turkish Internet users to news websites every day. I tested on a PC and two mobile phones, on Android and ioS devices, with "default" settings and clean, incognito browsing to avoid any kind of personalization except my location (Istanbul).
I published the preliminary results of the study on the Turkish journalism community website journo.com.tr, where I work as the editor of a press freedom project supported by the TGS and the EU. I'm currently working to gather more data and analyze them in an academic journal as well.
Here is an example of how Google News favors Demiroren media outlets, including Milliyet newspaper and CNN Turk television, by consistently featuring them on the top of the COVID-19 search results, amplifying the already-dominating narrative of the Erdogan administration while muting independent news sources: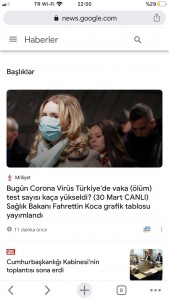 Beside its News service, Google's search platform is frequently dominated by partisan news outlets nowadays. For example, the results page for the keyword "coronavirus" on March 11 featured two pro-government newspapers, Sabah and Aksam, even above the websites of the Health Ministry and a hospital, as well as Wikipedia. There was no critical journalistic coverage of the issue in Turkish, in contrary to what we see in the English-language results highlighting outlets like the New York Times and BBC News.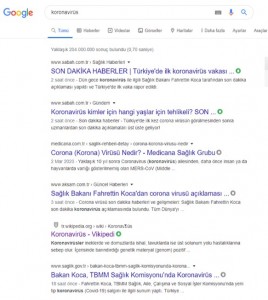 I repeated the same search on April 5. The featured news carousel algorithmically curated by Google appeared this time. Beside an entertainment-oriented website, the top two news results featured stories by the Demiroren-owned Hurriyet and the government flagship Sabah newspaper.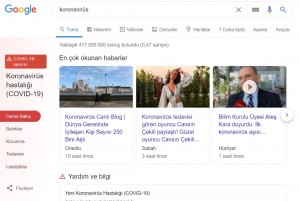 Out of the 10 news sources featured there, only two of them (Sozcu and Cumhuriyet) engage in critical journalism, and they were pushed to the end of the carousel, while Demiroren outlets were given two more places before them.
I believe that this is a crucial problem for press freedom in Turkey, hampering the ability of citizens to have access to objective and accurate news and information.
So, I expanded the study and detected several partisan online news articles that are highly misleading or manipulative on a diverse range of subjects including COVID-19 or putting at risk fragile communities in Turkey such as journalists and LGBTI+ groups.
In addition, many of these partisan Turkish news websites are supported by Google's ad tech, channeling significant revenue to pro-Erdogan digital conglomerates, while depriving critical news outlets of much-needed revenue, especially the smaller ones.
These sites also rank high on several important keywords on Google Search, while prominently displaying the Google News widget. Here are some examples on the three issues at hand:
On COVID-19: A fake news story on how an unnamed Turkish company "produced a national machine that destroys the coronavirus" was published by the Turkish pro-government media outlet A Haber on March 11.
When "coronavirus" was searched on Google that day, this story was consistently among the few that were featured by Google's news carousel on the top of the results. Moreover, the story hosted a range of ads, including leading European brands, on Google-owned ad service Doubleclick.
EFJ Executive Kuleli: 'Google's current policy endangers journalism and journalists'
Targeting journalists: A news story by pro-government Sabah newspaper had named and tried to criminalize critical journalists and press freedom advocates, like our esteemed colleagues Banu Guven and Erol Onderoglu, in 2017. This story still ranks high on Google search results, while Google ads of brands like Huawei are served on the page.
Meanwhile, the Sabah website still prominently displays its Google News widget. One of its recent stories was a propaganda piece which appallingly claimed that popular news presenter Fatih Portakal is a "terrorist" merely because he had criticized the government's response to COVID-19.
"Google's current policy endangers journalism and journalists in Turkey," said Mustafa Kuleli, an executive board member of the European Federation of Journalists (EFJ) and the TGS. "Its failure to sanction the proponents of hate speech, disinformation and propaganda may lead to tragic consequences," he added, blasting the platform's "outrageous support to partisan media outlets in Turkey."
Beside fake news, all of the largest pro-Erdogan digital media outlets routinely violate its quality standards, and Google's inaction leads to what critics see as a double standard. If your website consistently violates Google's rules in the United States, it gets sanctioned temporarily or even blocked permanently from its search and ad products. In Turkey, you are apparently free to do anything if you are a pro-government media outlet.
On these kinds of Turkish news websites, there is almost no original content, apart from those that target critical journalists and other groups, as they keep recycling the stories of news agencies or other websites. Their search engine-optimized (SEO) clickbait content usually have headlines that include a question and a long main body text without any answer in it.
Moreover, Google also failed to act against Sabah when it was revealed last year that the pro-government newspaper placed backlinks into Turkey's government-owned websites. It was probably the most blatant method ever devised to game the algorithm: By using the power of the state.
As a result, Turkish users are increasingly infuriated not only toward these partisan outlets but also towards Google. An example of such user feedback can be seen, for instance, on Eksi Sozluk, the largest online forum in Turkey. In a thread titled "Google turns into garbage with news outlets," dozens of Eksi Sozluk users recently blasted the U.S.-based company for incentivizing these Turkish outlets to produce and spread "garbage" content.
Pro-gov't media monetizes hate speech thanks to Google
Targeting LGBTI+: Some pro-government Turkish media outlets are even worse than the Demirorens and Sabah. For instance, the daily Akit's website routinely publishes hate speech against various groups, including the LGBTI+ community, but Google keeps featuring this website on its search results in important keywords.
The LGBTI+ activists I talked with in recent days accused Google of hypocrisy: When Google's Turkish search engine prominently displayed a rainbow flag during the Pride Week, its top results were rife with hate speech from the same partisan outlets, targeting LGBTI+ groups.
For instance, the activists searched for "LGBTI+" late last month and they saw that Google's Top News carousel featured the daily Yeni Akit's article claiming that "the LGBTI+ associations pervertly corrode the moral of society."
On June 28, more than 10,000 people in Turkey searched for "LGBT", according to Google Trends, and the top result was the daily Yeni Safak's article in which this community was labelled as "deviants". The rest of the top news carousel was again full of hate speech and propaganda.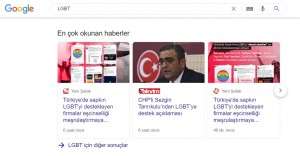 This is not a temporary "error" of Google's algorithm. Such media outlets appear in top results regularly. For instance, one of the recent examples was the daily Sabah's older article that criticized the main opposition CHP for inviting LGBTI+ associations to their official events and for publishing an awareness poster which simply stated that there are LGBTI+ children in Turkey that we should also care for. The daily Sabah slammed CHP for "spreading homosexuality" and "normalizing this deviance" with these LGBTI+ inclusive events and posters.
LGBTI+: Google's inaction may lead to 'psychological destruction'
While Google is too slow to act against those who target the LGBTI+ community with hate speech, its video company can be too eager to silence the same group. Last month, YouTube quickly blocked the live broadcast of a Pride Week event by Turkey's leading LGBTI+ associations. The award ceremony had to continue on Zoom.
Founded in 1994, Kaos GL is one of the oldest and largest LGBTI+ rights organisations in Turkey. Its media coordinator, Yıldız Tar, blasted Google for "ranking the outlets that systematically produce hate speech among top search results." The company's current practice "not only spreads hate but also puts disinformation ahead of information," Tar added.
"Imagine that you are a young person, searching for information about your sexual orientation or gender identity. When you see that the first content you find on Google are lies and hate speech, the psychological destruction that you experience as you feel all alone in the world may be too heavy to cope with," Tar said.
Calling on Google to apply its international norms and sanction the violators on its search and ad platforms, Tar said: "These media outlets routinely publish 'news' stories on why LGBTI+ associations should be shut down and even why LGBTI+ community members should be killed as this is 'a disease, a vice and deviance.' If Google continues to highlight these Turkish outlets and their content, then there is a problem with its own diversity and inclusion policies."
Elif Avcı, an activist for Lambdaistanbul, which is another leading LGBTI+ organization founded in 1993, gave more examples for the "outrageous" Google search results in Turkey. "When you google 'homosexual' in Turkish, the top results feature content with headlines like 'how can I get rid of homosexuality' and '[Islamic] repentance for homosexuality'," she noted.
Google's rainbow flag for the Pride Week, coupled with "homophobic and transphobic" search results just below it, created a "big paradox," Avcı added. After criticizing Google's "absolutely unacceptable" practice of failing to impose its international standards against discrimination, she concluded: "Google should stop listening to whoever it is turning for advice. It should urgently start to impose its global policies against discrimination in Turkey, too."
Brand safety at risk with Google's Turkey policy
The fact that Turkey's partisan media outlets published hate speech, as well as manipulative and misleading content, is not a surprise. Just take a look at the recent "news" stories debunked by Turkey's respected fact-checking organization Teyit.org. You will see all the usual suspects there, including Sabah, Yeni Safak and Akit.
As Google does not publish these figures, we don't know how much ad money its current policy channels to outlets like Sabah, but it can be safely argued that it is millions of Turkish Liras annually, considering the huge digital traffic of these websites.
Meanwhile, national and international companies whose ads appear through Google's ad platforms next to malicious content published by Turkey's partisan media risk their brand safety.
Take this example: Does the Spanish brand Bershka know that its Turkish ad managers currently finance Akit's conspiracy theories damning "imperialist America" through Google's ad platform?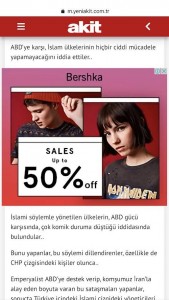 An official of Is Bankasi, a major private bank in Turkey, noted that the company withdrew its ads from another conspiracy theory-fed opinion column after I pointed it out.
Most of the brands that I contacted said they were unaware that their ads were displayed on such false/manipulative content. A representative of Renault Turkey told me that Google was responsible for the way that its ads were served on such content.
Some observers argue that Google may be ignoring all the violations of pro-Erdogan outlets because of its concerns for repercussions, as the Turkish government had even blocked YouTube once.
However, according to a digital media consultant, who worked for Turkey's largest news websites in the past, the reason behind Google's decision to turn a blind eye to the pro-government media's blatant violations could be more about commerce than politics.
"These media outlets attract huge traffic to their website, albeit with such disinformation and propaganda. Moroever, they are important customers for Google's enterprise products. Banning them will mean a much smaller revenue for Google in Turkey," he said.
Whether you call it selective ignorance or a problem of scale, Google's current policy in Turkey vis-a-vis the partisan media apparatus comes at a crucial time, supporting the ambitions of those who seek to corrode the county's ailing democracy.
Dozens of journalists remain behind prison bars and more than 400,000 websites are blocked in Turkey. The pandemic was used as yet another excuse to further suppress the freedom of the press and the government now even mulls "banning social media" with a new law.
Especially amid the ongoing "infodemic" of our day, the democratic public should not remain silent. It is time to support truthful, impartial, and high-quality journalism everywhere and particularly on digital platforms that are supposed to be "neutral."
A Google spokesperson had said regarding a misleading search result about the 2016 U.S. election that "In this case, we clearly didn't get it right, but we are continually working to improve our algorithms."
For the sake of democracy and regardless of its political or commercial motives, Google should "get it right" in Turkey, too, by taking heed of its users, journalists and fragile communities here.
Views expressed in this article are those of the author and do not necessarily reflect the views of the International Press Institute.